Epicurious issued the #cook90 challenge to cook 3 meals a day for 30 days in January and I decided to accept.
(Read: Why I'm Going to #cook90.)
I conquered week 1 of #cook90, and now I'm through week 2.
14 days down. 16 to go.
Celebrating
Day 8 (Sunday) was a birthday celebration, so a special dessert was in order. Individual Chocolate Lava Cakes are quick to put together, and use ingredients that are always in my pantry. Easy! Turns out, not so much when the cake sticks to the ramekin and the whole thing turns into a puddle of lava before you can get it out of the dish. #fail. Oh well. It tasted delicious, even if it wasn't pretty.
Buying Ingredients
For the second week in a row, I've noticed #cook90 leading to a change in my grocery shopping. Instead of coming home with mostly pre-made food, I bought mostly ingredients, including two bags full of produce. In our world, this is a big deal. Pretty sure there was a week in December when the only produce that made it into our house was a bag of apples, and those were turned into pie...
Bonus Prep Day
On Day 12 (Thursday) we woke up to find our world coated in ice and just about every area school closed. For my office, it meant a work from home day. So I used the day to cook up two big pans of roasted veggies since I could get emails and other work done while the oven did the cooking. Those veggies are now getting tossed over salad greens, folded into tortillas or topped with eggs.
The Freezer is my Friend
While cooking this week didn't feel any easier than last - especially when it came to my motivation - I was reminded almost every day that weekend prep to fill the freezer is the only way I'm going to make it through the #cook90 challenge. Cooking prep for this weekend includes: another chicken in the slow cooker, a carrot/parsnip mash (so I can attempt to get more veggies in the kiddo), re-stocking the baked oatmeal supply, and a huge batch of waffles.
Onward to Week 3
The upcoming week is going to get tough with some major schedule shifts on the horizon. Hopefully #cook90 will keep me focused on cooking at home instead of resorting to pizza or takeout. Fingers crossed!
Recipes from this week: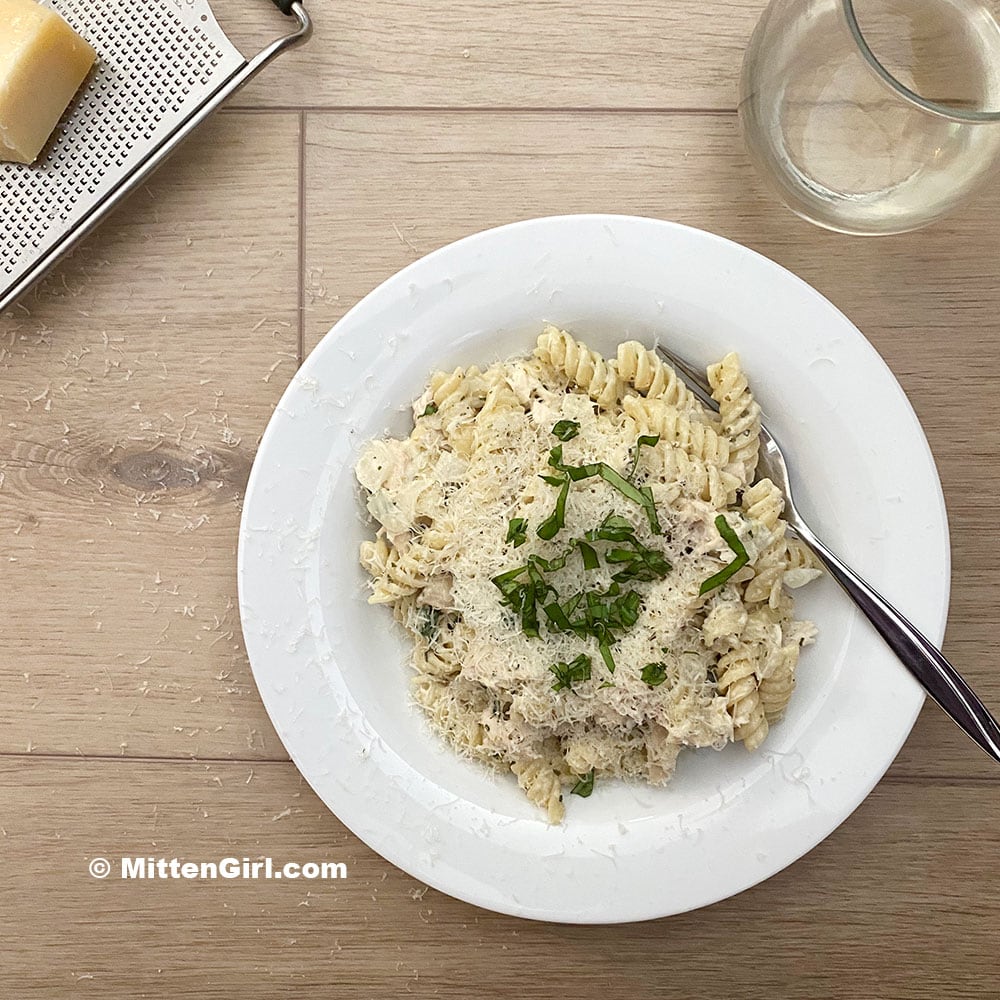 Creamy Shrimp Pesto Pasta (Swap shrimp for the chicken)