Homemade Happy Hour is the cocktail book your home bar has been waiting for.
Where to Buy: Retail Locations
Homemade Happy Hour is available in several retail location in West Michigan! These are locally owned, small businesses that I shop at myself and LOVE. I know you will too!
Craft Your Best Homemade Happy Hour
Make craft cocktails with confidence, be your own mixologist, and be always ready to entertain with a fully stocked bar.
Cocktails don't have to be intimidating, complicated or full of rare ingredients to be memorable.
Mocktails don't have to be just a glass of juice.
You can make delicious syrups in your own kitchen.
You can create your own liquor infusions.
You can shake up a gorgeous craft cocktail in the comfort of your own home using easy-to-find ingredients.
Homemade happy hour is for anyone who finds cocktails intimidating.
Cocktails used to intimidate me, too. But it doesn't have to be that way!
We'll use everyday ingredients that you can find at your local store. We'll make cocktail syrups using pantry staples and whatever fruits are in season.
We'll use herbs and citrus to craft our drinks.
We'll go over what bar tools and glassware to have on hand and how to fill your home bar with spirits you actually want to drink.
You'll make mocktails and cocktails that come together easily, are super tasty, and look fancy.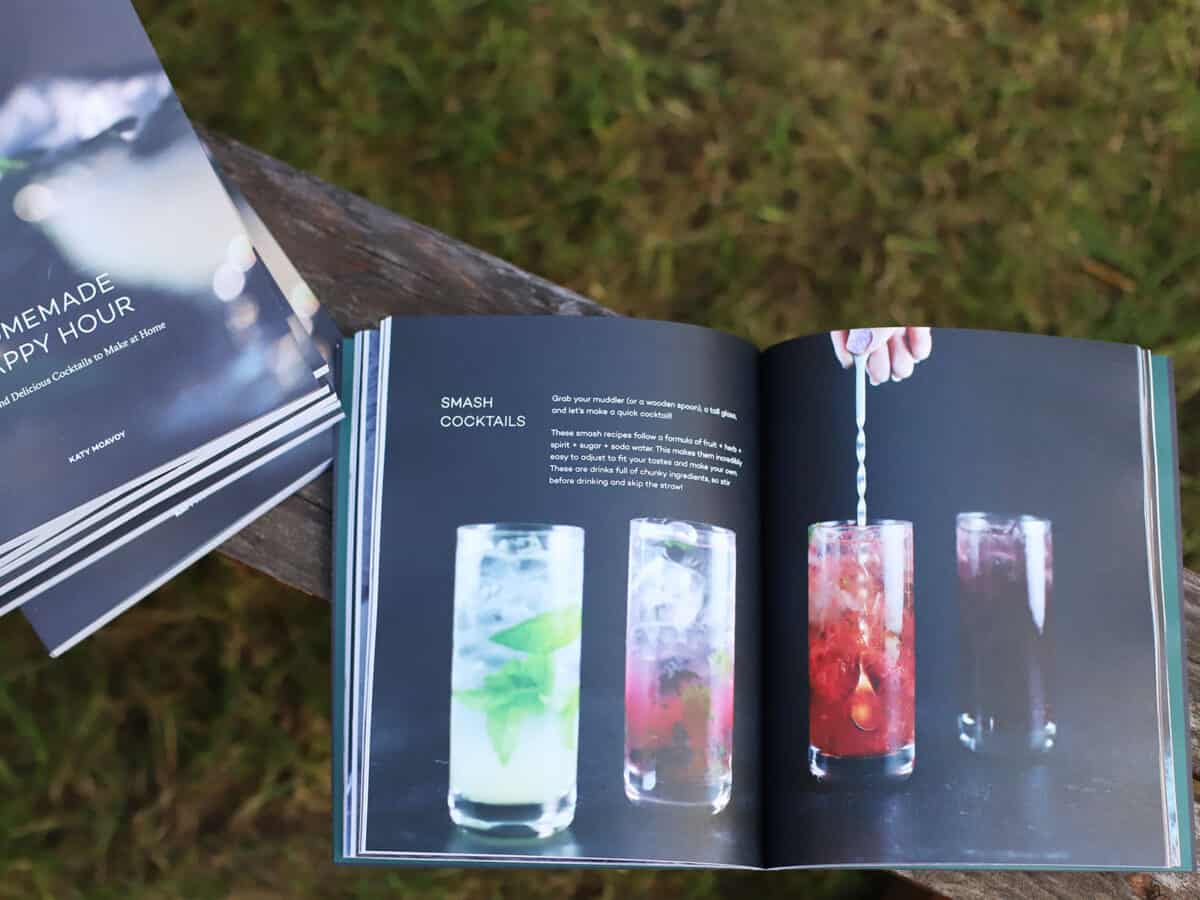 Homemade Happy Hour will have you creating your perfect home bar and shaking up incredible cocktails with confidence.
What Goes into Printing a Book?
Take a behind the scenes look at the printing of Homemade Happy Hour at Pageworks in Grand Rapids, Michigan.
Homemade Happy Hour was Funded by Kickstarter
During July and August of 2021 I ran a successful Kickstarter campaign to fund the printing of Homemade Happy Hour. It allowed the book to be both designed and printed locally in Grand Rapids, Michigan. Without the 88 backers of my Kickstarter campaign, Homemade Happy Hour would not have been possible. I am forever grateful.