This post contains affiliate links (paid links).
A DIY mimosa bar is a fun way for your guests to make their own drinks and create exactly what they want. Always provide non-alcoholic options for those wanting a delicious drink without the alcohol.
Jump to:
Take your weekend brunch to the next level by creating your own mimosa bar on your bar cart or kitchen counter. You can even create a couple drink stations with a coffee bar and mimosa bar in separate areas to help more guests get the drinks they want.
Perfect for a bridal shower, baby shower, holiday brunch, Mother's Day, or any special occasion, a mimosa bar is a great way to provide a fun activity for your guests and isn't as difficult to set up as you may think. You just need to provide a variety of juices, some bubbly, and a delicious mimosa recipe to get your guests started making their own mimosas.
Types of Juices for a Mimosa Bar
Always start with orange juice - it's a key ingredient and your guests are expecting it - and then provide as many other delicious juices as you feel like. This is your DIY bar, so set our your favorite juices. Here are a few ideas for fruit juices:
Orange juice
Pineapple juice
Peach juice
Mango juice
Grapefruit juice
Cranberry juice
Pomegranate juice
Buy 100% juice, not fruit juice cocktail which has added sugar and sometimes added fruit flavors. For orange, peach, grapefruit, pomegranate, and mango juice, I buy the small bottles of fresh juices in the refrigerator section of my grocery store.
Before setting the fruit juices out on the mimosa bar, pour juices into carafes, small pitchers, or mason jars and label them so guests know what they're grabbing.
What Kind of Bubbly to Serve
Prosecco or Champagne
You want to select a dry sparkling wine since it's getting added to juice. Look for words like Brut or dry on the bottle to indicate the wine is low in sugar.
Skip the sweeter moscatos and spumantes. They're too sweet for mixing with other ingredients. Dry sparkling rosé is also a fun option to provide, especially for wedding showers, since it'll give you fun pink drinks.
Club Soda and Flavored Sparkling Waters
Not everyone enjoys a morning cocktail, so be sure to provide delicious bubbly options for those wanting to skip the champagne.
Go for smaller bottles or cans of club soda or sparkling water on your mimosa bar. A big plastic bottle isn't the look you're going for and pouring fizzy water from a two liter bottle into a pitcher will just cause it to lose its fizz faster.
Optional Add Ons for Your Mimosa Bar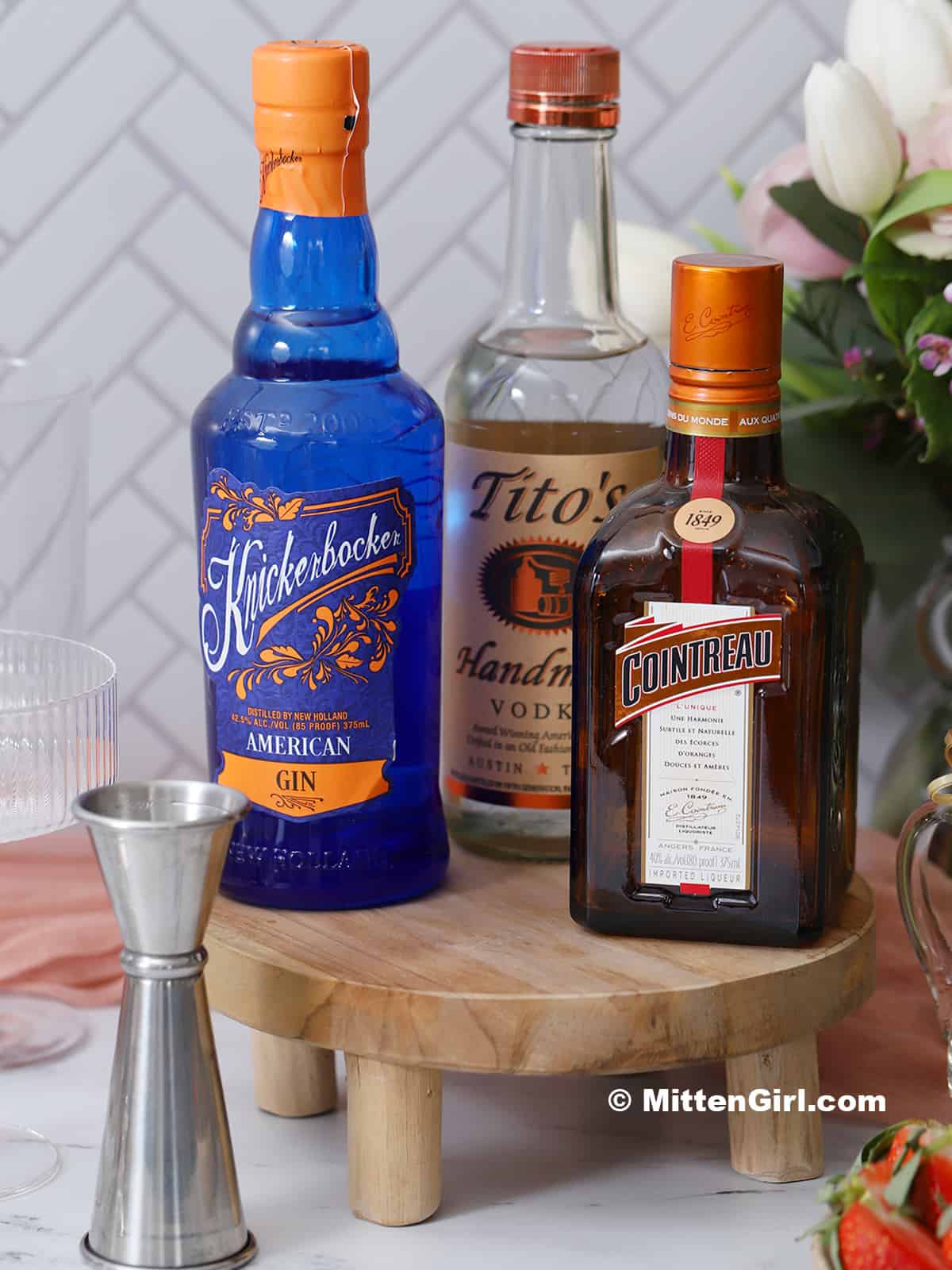 To create even more delicious drinks, set out a few extra ingredients that aren't usually found in a traditional mimosa recipe.
A DIY mimosa bar is more than just a drink station, it's also a fun activity for your guests. So give them a few extras to use while building their drinks.
Some Ideas:
Vodka
Gin
Orange liqueur
Elderflower liqueur
Fresh fruit puree
Are Mimosas Served with Ice or no Ice?
Mimosas are served "up" - meaning without ice - but should still be served very cold, so make sure everything is well chilled and kept on ice as much as possible.
I like using an ice bucket or beverage tub filled with ice to store my juices, and a separate large ice bucket or tub for chilling my bubbly options.
If you decide to use liqueurs and/or syrups, those can be set out without ice. Just make sure your syrups are well chilled before you set them out.
What Glassware to Use
Unless you're hosting a LOT of people, skip the plastic champagne flutes and provide actual glassware for your guests.
It doesn't have to match! Set out stemmed and/or stemless glass champagne flutes and wine glasses. Borrow some from a friend or neighbor if you need to, or stop by your local thrift stores for inexpensive options.
Mixing and matching your glassware will make your mimosa bar less formal and help people remember which glass is theirs since the glasses won't all look alike.
How to Set up a Mimosa Bar
If you have a long counter with lots of space, layout your mimosa bar in the order that guests will be building their drinks. This is especially helpful if you're doing a mimosa bar for a large group:
Glasses
Fruit Juices
Liqueurs and Syrups (optional)
Bubbly Wine and Soda
Garnish + tongs/cocktail picks
Cocktail napkins
If you're working with a bar cart or other smaller space, or setting up a mimosa bar for a small group, feel free to set items up however you want as your guest won't be moving down a line to make their drinks.
Don't Forget the Garnish
For garnish, provide small bowls or a small platter filled with orange slices, berries, and/or pineapple wedges for a selection of fresh fruit. Add fresh mint or even edible flowers if you want to make it extra fancy.
Remember to keep your garnishes small enough to easily fit in/on a champagne flute. Cocktail picks are also helpful so guests can more easily snack on their garnishes if they want.
Refill and Restock as You Go
Don't set out all the champagne bottles you bought. Assuming you're having 8-10 guests, open 2 bottles of well-chilled champagne or Italian prosecco just as people begin arriving and keep a close watch on your mimosa bar during the beginning of the event.
Each time a bottle is finished, replace the empty one with a chilled, full bottle. This way you never have bottles sitting around losing fizz and you're not stuck with a bunch of open-but-full bottles of prosecco at the end of the event.
FAQs and Substitutions
Almost no one on my invite list drinks alcohol. How do I provide just a little bit of sparkling wine? 
If you only want to serve a small about of prosecco, look for small bottles at the store. Lots of brands make individual-sized bottles. These are an especially nice option for a baby shower where drinking around the pregnant guest of honor might feel a bit awkward for some people. 
How do I store leftover prosecco?
An open bottle of prosecco will last around 24 hours in the refrigerator - without losing its bubbles - if you set a spoon into the top of the bottle with the handle pointing down into the bottle. (So bizarre, but I swear it works!!) If you want to keep it longer than that, there are champagne bottle stoppers that will reseal an open bottle for you to enjoy days later. 
Do I really have to provide all of this for a Mimosa Bar? I just want something simple. 
Pick and choose what you want to do from this post! Select as many juices, garnishes, and/or add ons as you want, and skip the rest. It's your mimosa bar - make it your own!
Free Printable Mimosa Bar Menu Template
Your guests will appreciate a menu to give them ideas for ways to create their mimosas.
Many people don't craft drinks at home and won't know what to do without some suggestions to get them started.
Head over to Canva and use my Mimosa Bar Menu Template to create your own signage. Customize it (or not) as much as you want! This is just to get you started.