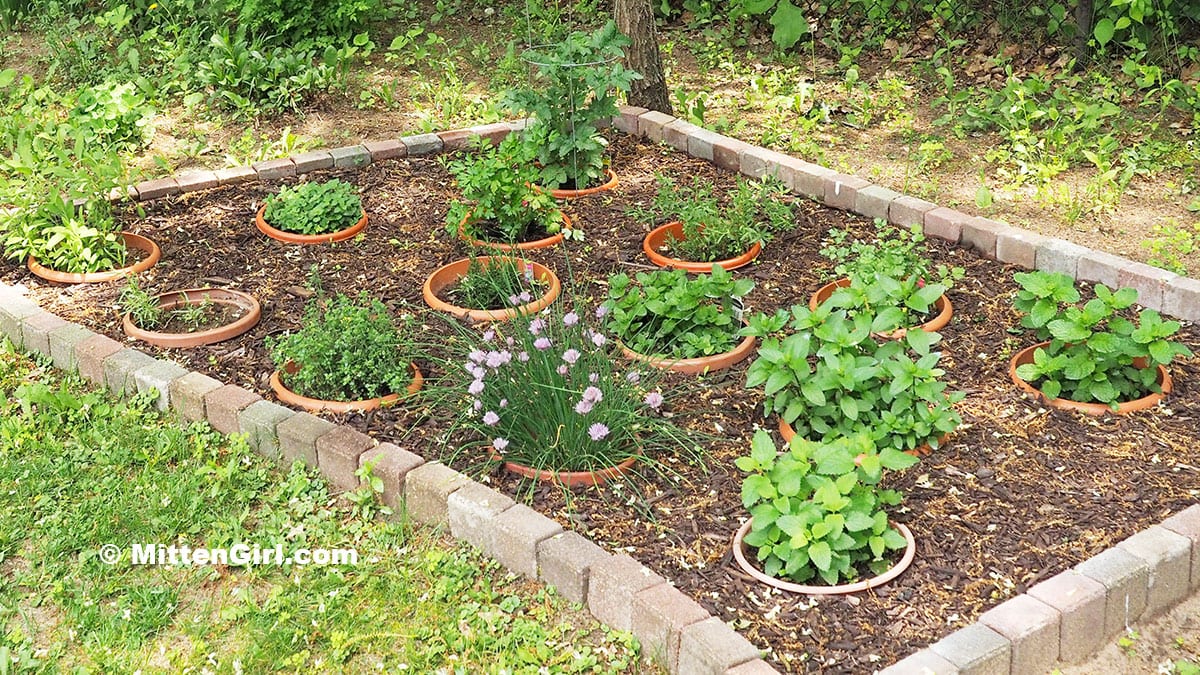 When we bought our house, the outside was listed as "professionally landscaped." And I'm pretty sure that in our case "professionally landscaped" was code for "potential gardens filled in with rocks." There were a few plants and bushes, but almost everything resembling a garden was full of rocks. Turns out piles of rocks are where spiders like to live.
Lots of spiders.
I hate spiders.
The rocks had to go.
During the past nine summers, we've put in a raised perennial bed, fenced in the back yard, added brick edging around three wildflower gardens, installed a retaining wall, and replaced countless rocks with day lilies and irises. And as of this summer, it's official - the gardens are done. Finished. Complete. My favorite part of the finished yard is the new backyard herb garden that I installed this spring.
I'd always kept my herbs in pots during the summer, assuming they wouldn't survive a West Michigan winter. But my green-thumb friends have taught me how wrong that assumption was. So a few years ago when the clay pot around a chive plant started crumbling, rather than get a new pot, I planted chive in one of our gardens. When chive came back to life the following summer, I was emboldened and started adding other herbs. Pretty soon I had a section of random herbs that looked out of place and no idea how to fix it.
Inspiration struck in the form of an herb garden photo found on Pinterest, so I set out this spring to translate that idea to my backyard.
I started by digging up my existing herbs, putting them in matching plastic pots, and burying those pots in the ground. Done!
Wrong. It looked dumb.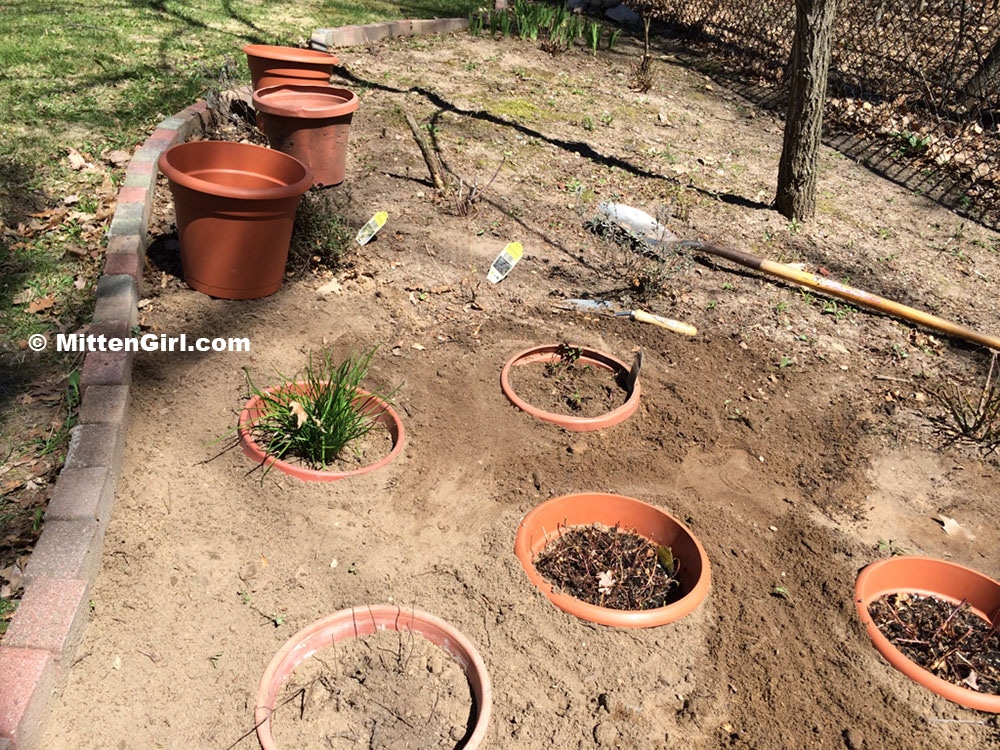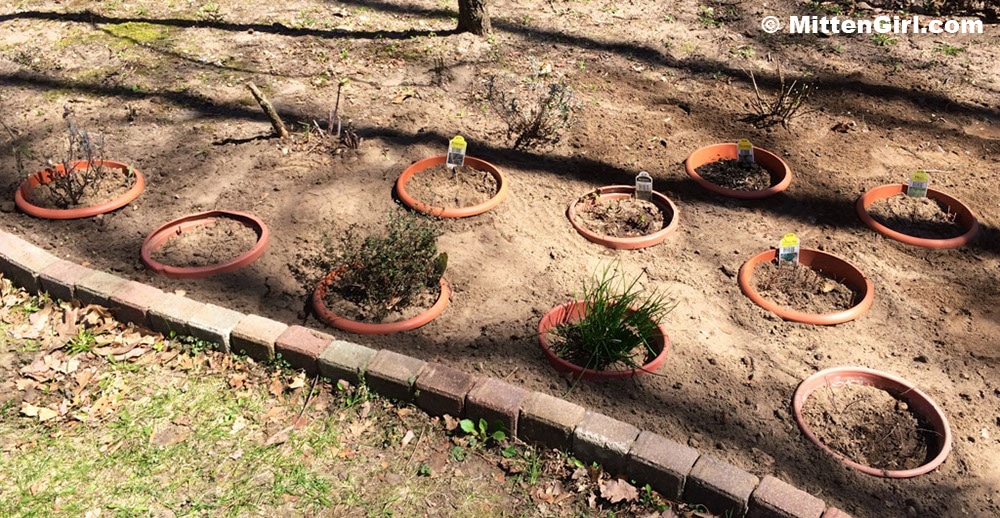 Besides all of the pots looking really random just stuck in the ground, I wanted to spread mulch in between the herbs to deter weeds and give me an easy way to walk between plants. But just putting mulch between the pots would look even more random. Plus the mulch would wash away during the first good rain.
So I created a border around the pots with some of the extra bricks we had laying around, burying the bricks vertically into the ground: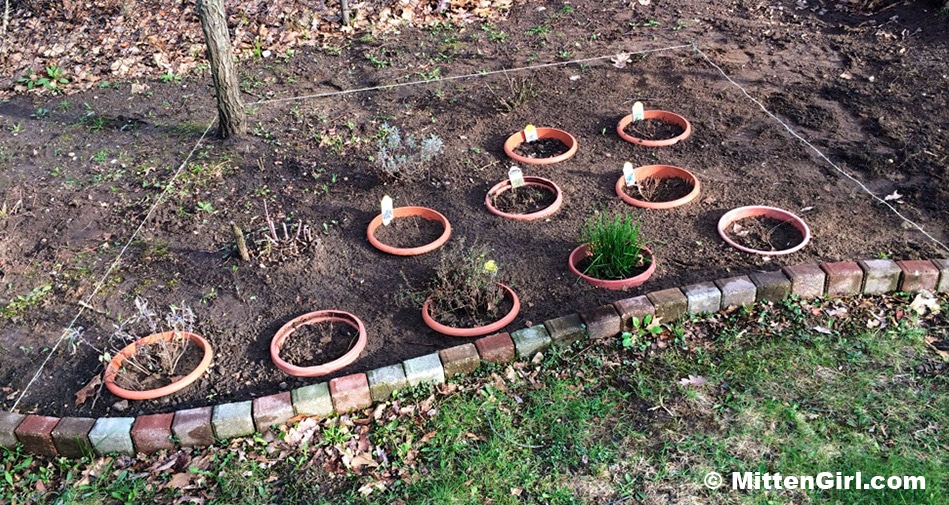 I also added a few additional pots to fill up the space I'd created: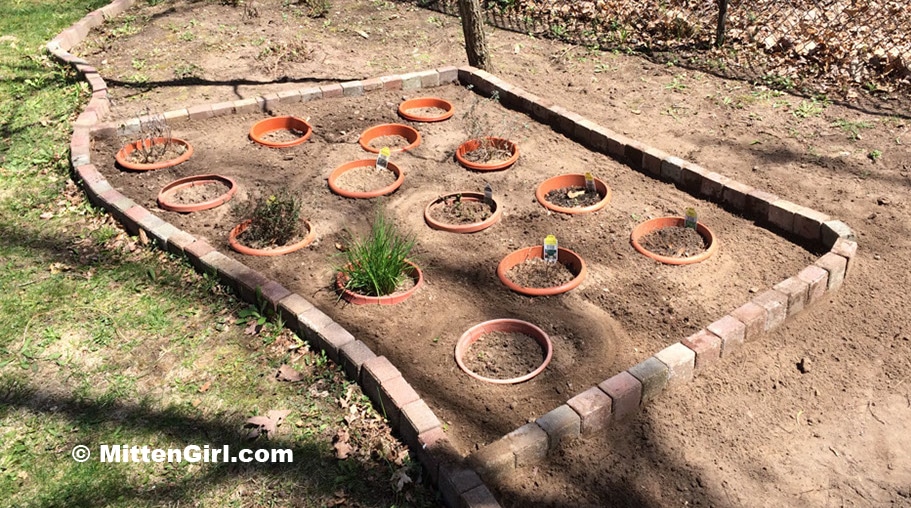 Then I got planting and mulching.
In total, I sunk 14, 10 inch plastic pots into the ground this spring. They are filled with: chive, sage, thyme, rosemary, oregano, cilantro, parsley, tarragon, mint, chocolate mint, spearmint, lemon balm, lavender and a tomato plant. Eight of the herbs are returning plants from last year. The others are new to my garden and/or replacement plants for ones that didn't survive the winter.
I'm super happy with how my little backyard herb garden turned out. What do you think?