Fresh herbs play a huge role in many of my cocktail recipes, and like most cooks, I love using fresh herbs in my culinary adventures as much as possible.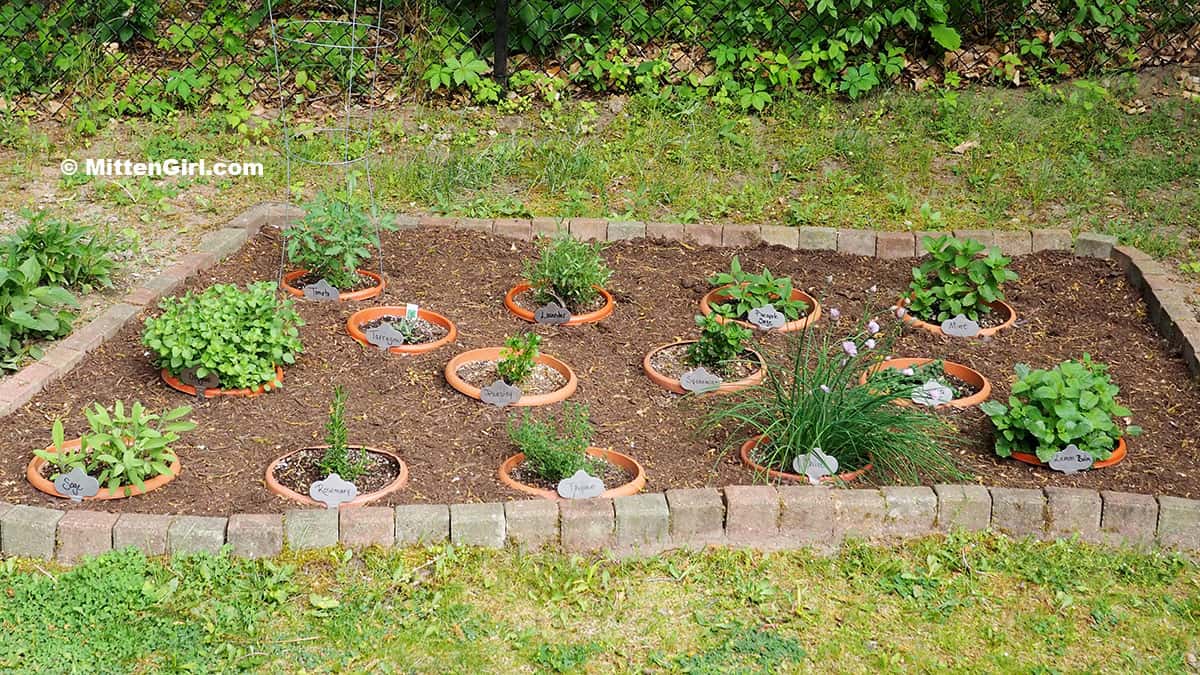 My herb garden makes me so happy. I miss it every winter when the cold and snow takes over, and look forward to its renewal and replanting it every spring. I love that chive pops up out of the ground the second the snow is gone in the spring, and that rosemary and sage will hang on in the fall until our first hard frost.
Seven years ago I built my outdoor herb garden to house 14 plants. Each one is buried in the ground in its own 10 inch, 5 quart plastic pot. I was really unsure about how the inexpensive planters would age, but those plastic pots are still going strong.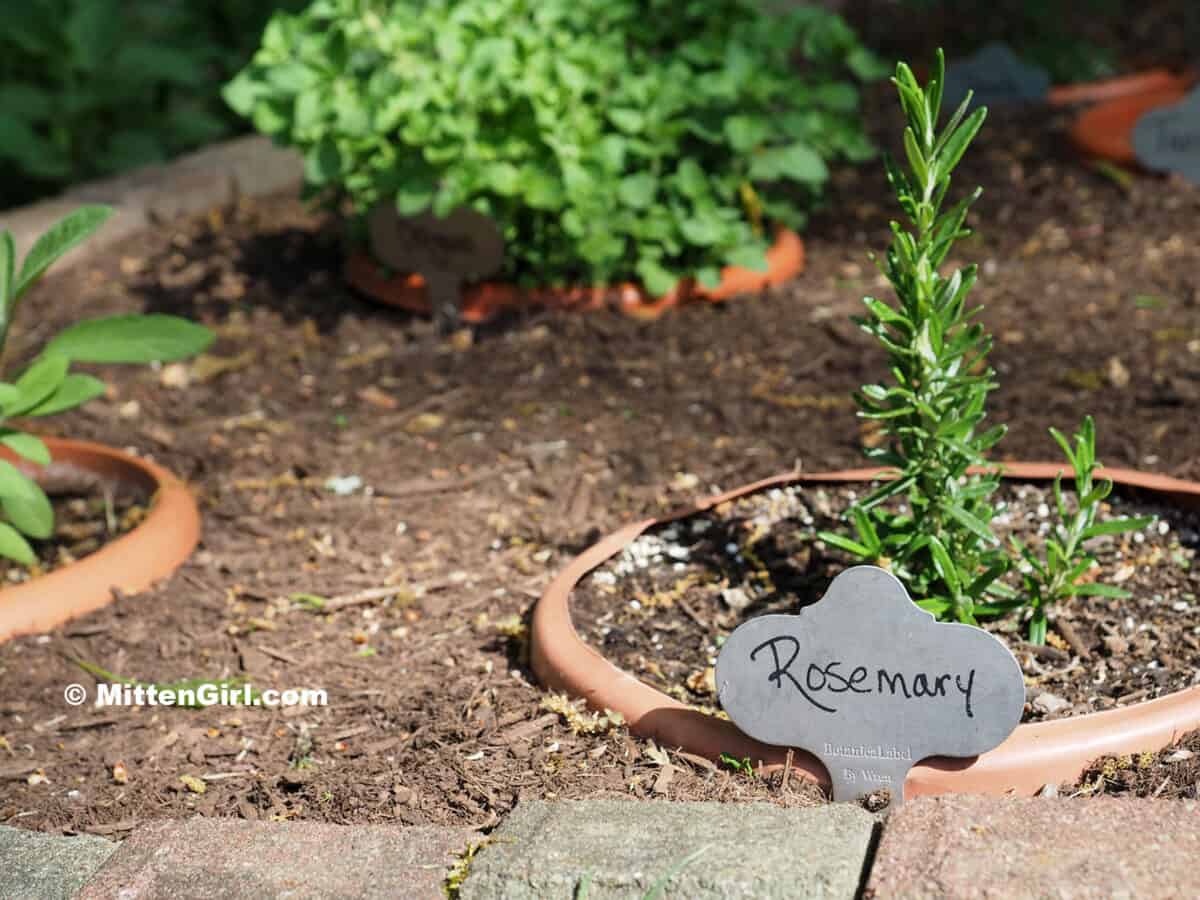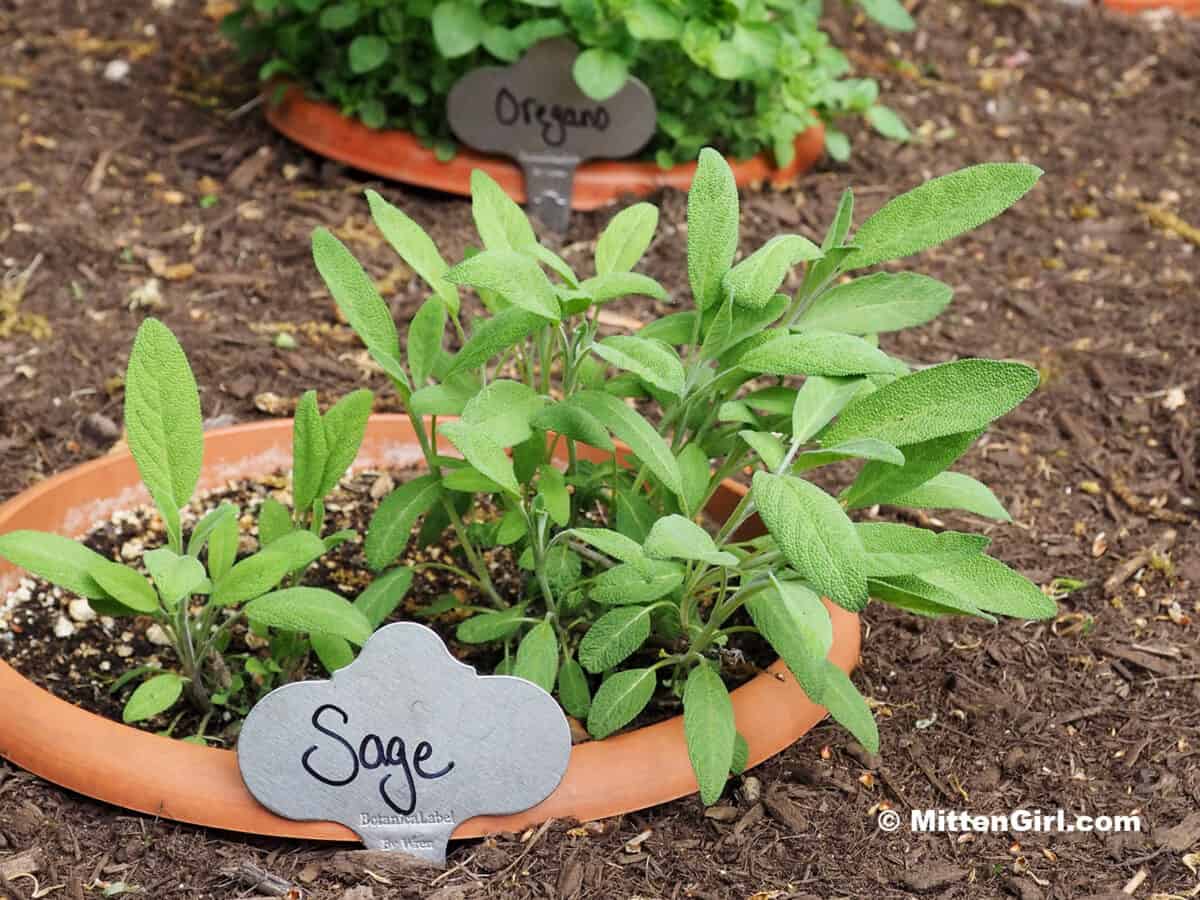 The pots have two benefits - (1) they provide a way to organize 14 herb plants, but the big plus (2) is they keep everything contained. Jumpers (like lemon balm) and runners (like mints) stay contained and keep to themselves.
Mints don't love life in pots and I often have to replace them. But I'm OK with that since they're inexpensive and I'm not spending my summer pulling mint shoots out of the herb garden (or my lawn, and or flower gardens...).
Building a Backyard Herb Garden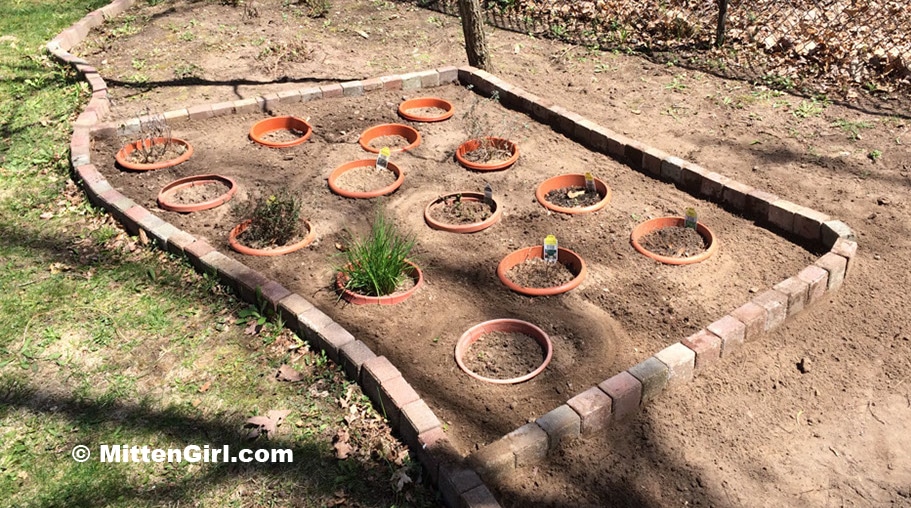 Spring Herb Renewal
If I'm really on it in the spring, I'll remove most of the old soil from the pots that hold annual herbs and replace it with fresh potting soil. I'll also remove the old mulch and fertilize the perennial herbs. But that's a big if. Many years I just plant the annual herbs, water everything, and move on.
This year, however, I was feeling the gardening bug BIG TIME and went all out refreshing the soil, laying new mulch and getting my herb plants going again.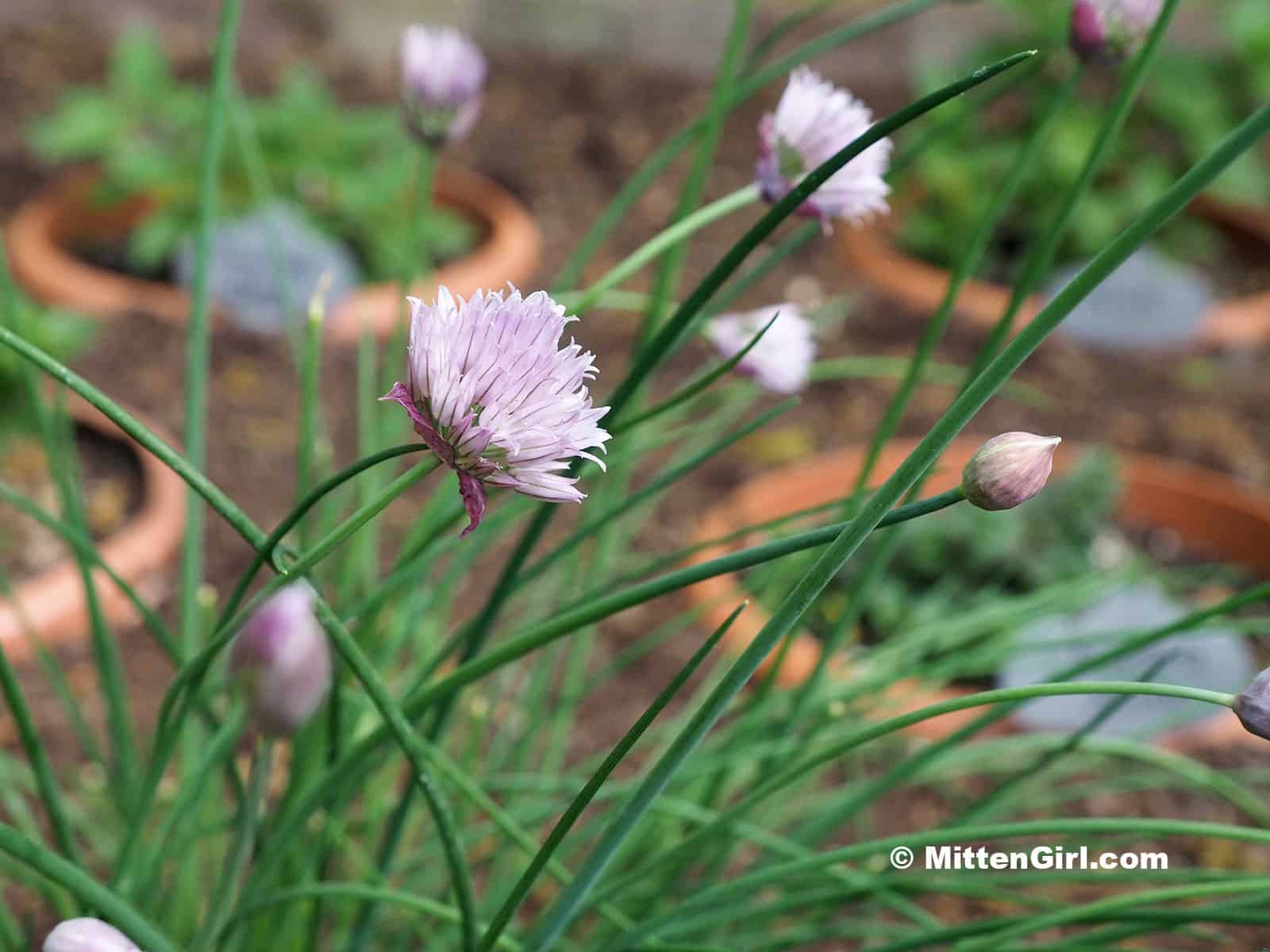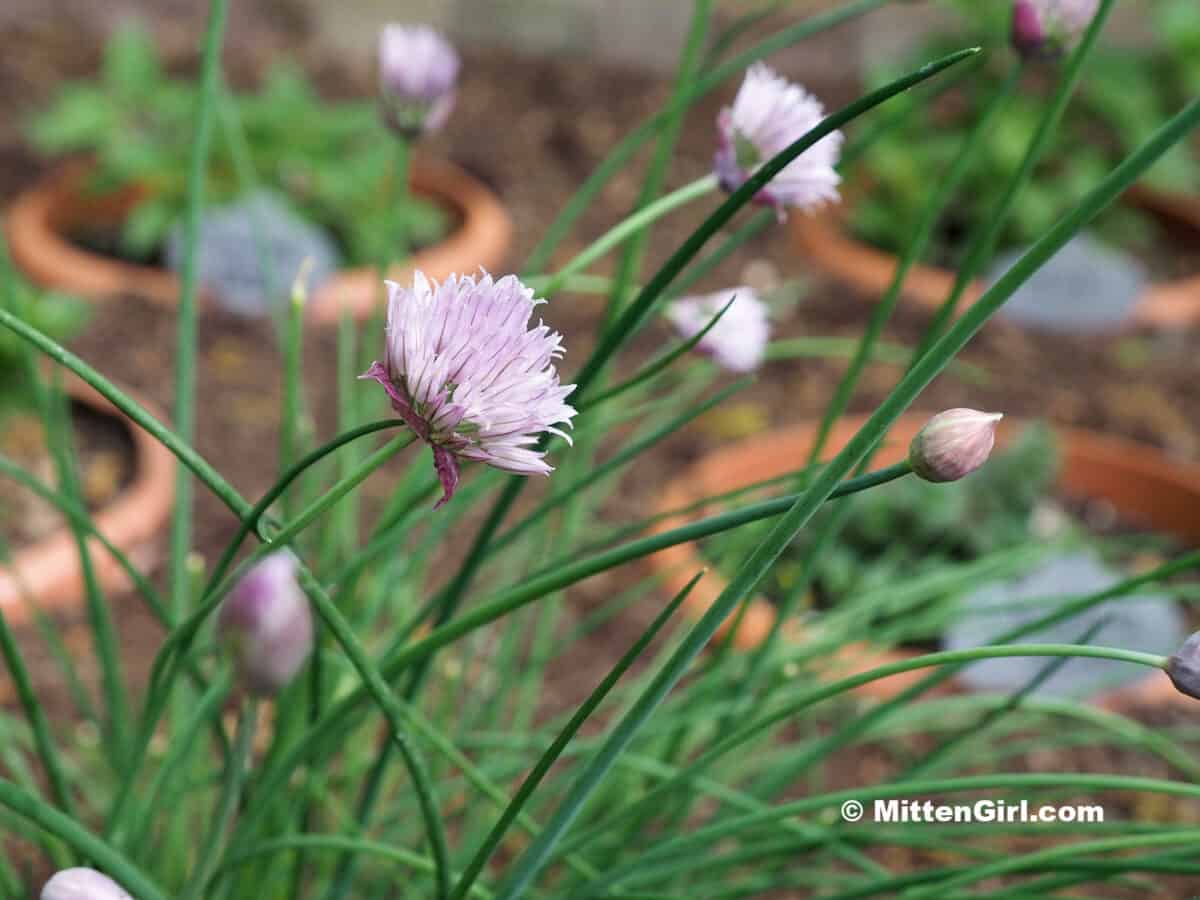 In western, lower Michigan many herbs are considered perennials. Though a lot depends on if we have a harsh winter season, about half of my herb garden comes back each year. In 2021, chive, oregano, sage, lavender, lemon balm, parsley, and spearmint all made it through the winter. 
Getting the Garden Set for Summer
I've stopped by a couple local nurseries this spring to replace the annual herbs and pick up a few new-to-me herbs that I can have fun with this year. I use my herbs for cocktails and cooking, but many will also play an important role in my food photography in the coming months.
Here's what I have in the garden this year and what I use each of them for:
Chive - Potatoes, grilled chicken, pasta
Chocolate Mint - Add into green salads, cocktail garnish
Lavender - Cocktail syrup, food photography prop
Lemon Balm - Cocktail syrup, herbal teas, food photography prop
Mint - Mojitos, infused liquor, cocktail syrup, martinis, herbal teas
Oregano - Pasta, potatoes, grilled chicken, tomato dishes
Parsley - Pasta, potatoes, grilled chicken, food photography prop
Pineapple Sage - This one's new this year and I'm not sure what I'll use it for. But it smells amazing and I see it going into cocktail syrup at minimum.
Rosemary - Cocktail syrup, gin cocktails, potatoes, grilled chicken, food photography prop
Sage - Pasta, sausage dishes, bourbon cocktails
Spearmint - Mojitos, infused liquor, cocktail syrup, martinis, herbal teas
Tarragon - Grilled chicken, chicken salad
Thyme - Potatoes, grilled chicken, pasta, food photography prop
Tomatoes - OK, so definitely NOT an herb. These are in my final, corner pot because I overbought on tomato plants and couldn't find any camomile which is what I really wanted to plant.
I label all of my herbs with these fun, metal stakes. I tried bamboo ones, but our dog pulled them all up and used them as chew toys (not kidding). Labeling everything helps me remember what's what, and more so lets me send my non-gardening family members out to pick whatever herbs I need in the kitchen that day.
In addition to the plants in the herb garden, I have a pot full of sweet basil plants and a lemon basil plant on the deck. We have lots of Japanese beetles around here who love to eat basil. But they don't seem to love our deck, so keeping basil in a pot off the ground keeps it safest from pests.
I love the instant reward of herb gardening - you can start using them as soon as you plant them! I always have a hard time resisting my basil plants for the first couple weeks. I like to give them a good start before I start plucking leaves off, but fresh basil is so good on just about anything!
What herbs do you plant on your patio or in your garden? And what do you use them for? Let me know in the comments below!
Delicious Recipes for Using Herbs