This post contains affiliate links (paid links).
Creating a cocktail bar and mocktail bar for your guests is a fun and delicious way for them to craft the exact drink they want while you enjoy hosting your party instead of bartending.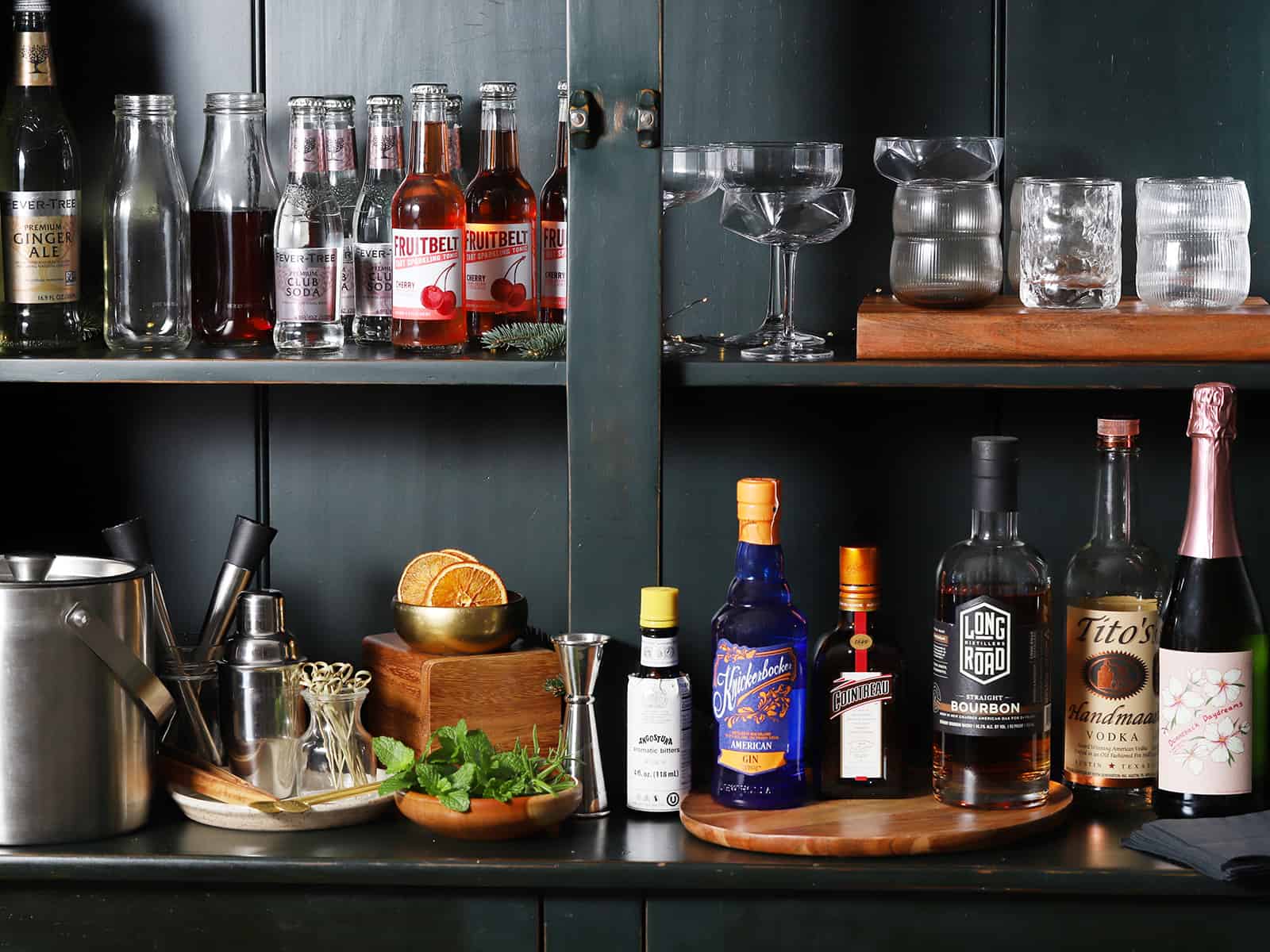 Jump to:
Whether you're celebrating the holidays, a birthday, or just the weekend, it's so much fun to host friends and family. But spending the night pouring drinks and making sure everyone's sipping something delicious is decidedly less fun, especially on special occasions when you're trying extra hard to be a good host.
Setting up a cocktail bar and/or mocktail bar provides your guests with (1) something to do, (2) something to talk about, and (3) a way to pour exactly what they want to sip.
Everyone deserves a delicious drink, so don't leave your guests who don't drink alcohol with the options of water or soda pop. Alcohol-free cocktails aren't just a thing during Dry January!
Set up your DIY cocktail and mocktail bar to give ALL of your guests - whether they're drinking alcohol or not - a variety of drink options.
Great non-alcoholic beverages will help your guests move beyond the standard non-alcoholic cocktails like a Shirley Temple, Roy Rogers, or Arnold Palmer.
What You Need for a Great DIY Mocktail Bar and Cocktail Bar
There's often a stigma around not drinking alcohol - especially if most guests are imbibing. Letting everyone craft their own drink at a well-built cocktail bar and mocktail bar allows those not having alcohol to simply pass on the liquor and enjoy delicious non-alcoholic drinks.
1. Lots and Lots of Ice.
Ice is a key component of any drink. Don't skimp on the ice! Your guests will want a cold drink. Have lots of ice on hand and keep the ice bucket full so there's always ice available for your guests.
2. Simple Syrups for Drinks
Homemade simple syrups for cocktails and mocktails are a great way to make your cocktail bar and mocktail bar feel special. Customize your simple syrups base on what fruit or herbs are in season and/or your favorite flavors!
Not sure where to start? I have lots of tasty recipes on my site! Try a couple of these easy simple syrup recipes:
Pro tip: Make your own simple syrup up to a week ahead of time so it's ready to go the night of your party.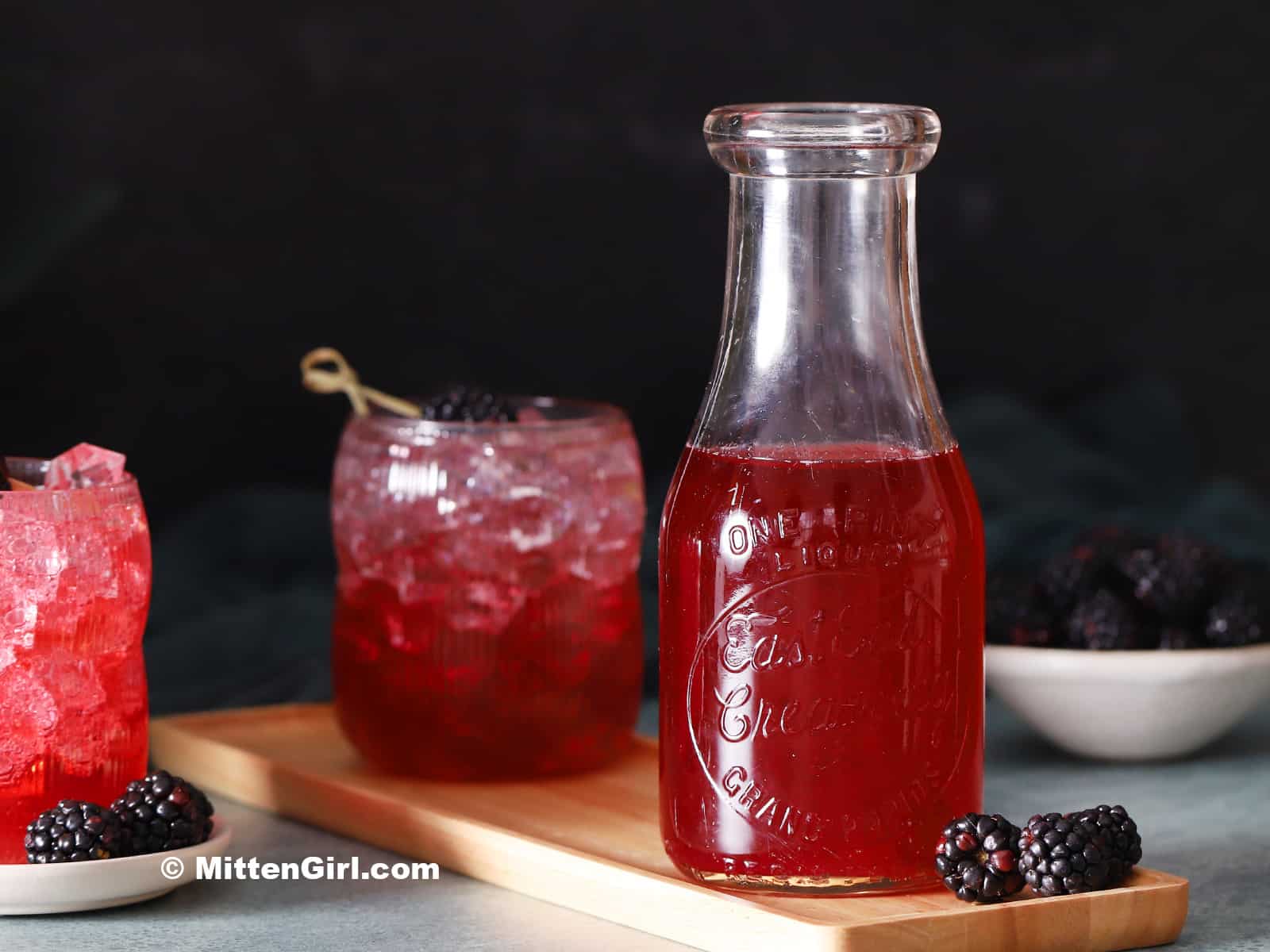 3. Mixer Options for Your DIY Bar
There are SO many options when it coms to mixers for drinks. Choose options you like that will combine with multiple ingredients. Club soda, tonic water, fruit juices, and flavored bubbly waters are always good choices. Other ideas:
Club soda or sparkling water - Plain and/or flavored
Tonic Water - Plain and/or flavored
Ginger beer or ginger ale
Lemon lime soda
Cranberry juice
Pineapple juice
Grapefruit juice (fresh squeezed if possible)
Fresh Orange juice (fresh squeezed)
Fresh Lemon juice (fresh squeezed)
Fresh Lime juice (fresh squeezed)
4. Fresh Ingredients for Drinks and Garnishes
Fresh herbs and fresh fruit are delicious muddled or squeezed into a cocktail or mocktail, as well as being easy garnishes.
Depending on the mixer and liquor options you're providing, maraschino cherries and/or cocktail onions might also be good additions.
Pro Tip: Don't forget to set out the cocktail picks and tongs for guests to use for handling these fresh ingredients!
Try some of these fresh options:
Fresh Mint
Fresh Rosemary
Citrus wedges (lemon, lime, orange, or grapefruit)
Berries (blueberries, sliced strawberries, blackberries, raspberries)
5. Alcohol and Non-Alcoholic Liquors for Your DIY Bar
For a cocktail bar, pick your favorite liquors. This is a great way to introduce your guests to brands you love. But you don't need to go over board! Choose 2-3 liquors that you enjoy and skip the rest. Set out full, open bottles and be sure to include a jigger for measuring the alcohol.
Choose from these categories:
Vodka
Gin
Bourbon or whiskey
Brut champagne, prosecco, or sparkling wine
White rum
Silver tequila
Pro tip: If you only have a few people who drink alcohol attending your party, you can provide a few small, 2 ounce bottles of liquor to accommodate those guests or ask them to bring their own liquor.
If you're entertaining a group who doesn't drink alcohol, it can be fun to provide some non-alcoholic spirits for guests to try.
6. Glassware and Tools
Provide actual glass (not plastic) glassware if possible and be sure to set out at least one jigger or shot glass by the liquor for measuring. Many people may be OK eye-balling their drinks, but someone who doesn't often make cocktails at home will be more comfortable measuring their liquor.
Other items to include in your cocktail bar and mocktail bar:
A variety of glassware - Include champagne flutes or coupe glasses if serving prosecco
Jiggers and/or shot glasses for measuring
Straws and/or stir sticks
Cocktail shaker
Mixing glass, bar spoon, and strainer
Cocktail picks
Cocktail napkins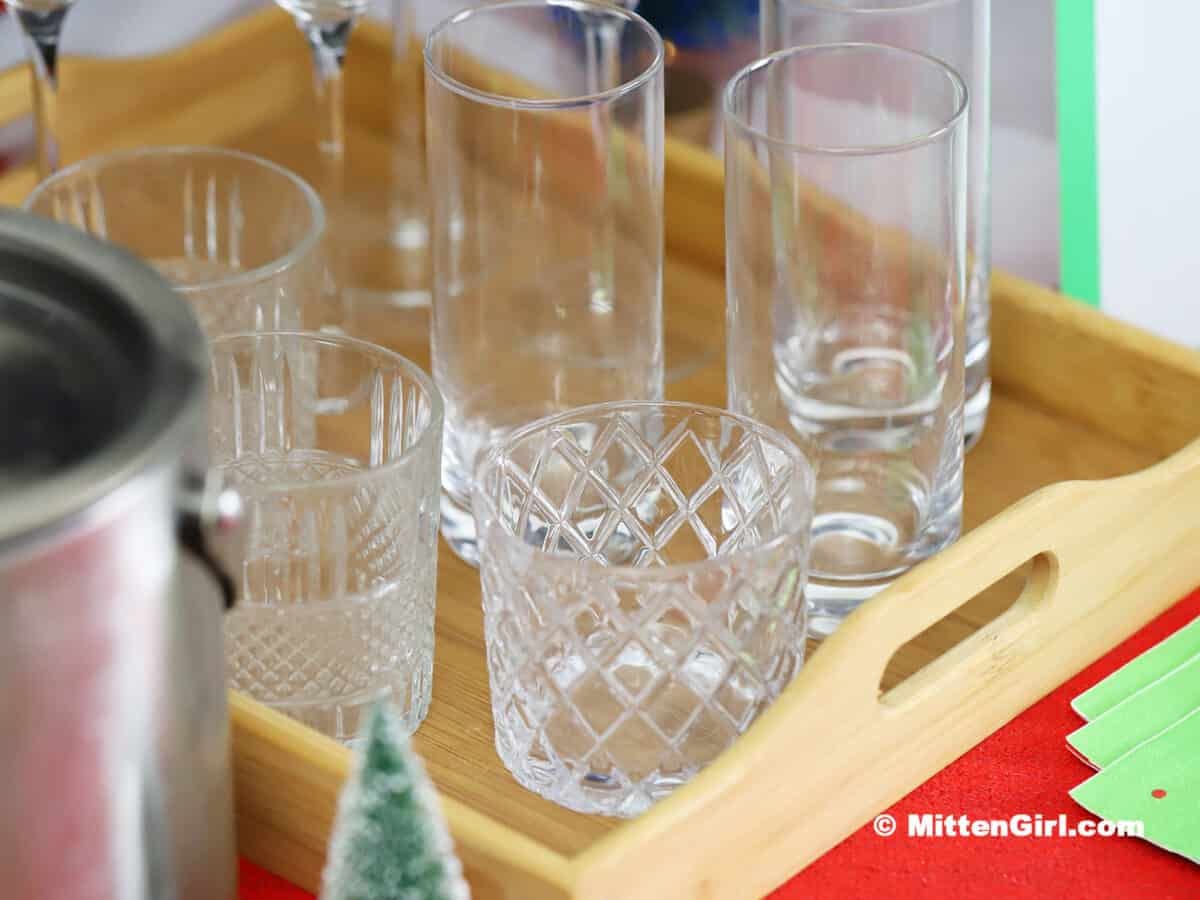 Suggested Drink Recipes and Combinations
No everyone is going to know what to do standing at your DIY bar. So give them a little help by providing a few combinations to get your guests started.
I like suggesting mocktail recipes that can easily be turned into cocktails so everyone has several options, like these combinations:
Honey syrup + club soda + fresh orange + mint leaves (add gin)
Brown sugar syrup + fresh lemon + ginger ale or ginger beer + mint leaves (add bourbon)
Cranberry juice + ginger ale or ginger beer + fresh lime (add vodka)
Apple cider syrup + fresh orange + club soda (or prosecco)
If you want to provide a more specific drink experience, choose a few cocktail and/or mocktail recipes and provide the ingredients (and instructions) for those drinks.
Try a classic margarita or bee's knees gin cocktail. You can also offer a variety of mocktail ideas including a virgin piña colada, virgin margarita, or virgin mojito.
Download My Home Bar Menu Template
Click on the button below and choose "Use Template" for a copy of the menu I used in these photographs. There's a few combinations to get you started. (Note: You'll need to be logged into Canva to use the file.)
Where to Set Up Your Cocktail and Mocktail Bar
Give yourself as much room as possible, and set up your cocktail and mocktail bar as if it was a buffet of food. Glasses and ice go first, followed by syrups, mixers and liquor. Follow that with fresh herbs and sliced citrus for garnish.
Set the bar tools where they make the most sense - cocktail shaker, jiggers, and mixing glass by the liquor; cocktail picks, tongs, cocktail napkins at the end by the garnish.
Don't have a lot of space? Size-down your offerings to fit your bar cart or counter! You don't need dozens of items if you don't have the space. Buy large bottles of tonic water, soda water, ginger beer, and drink syrups so you only need to set out one bottle at a time.
The entire goal of a DIY Cocktail and mocktail bar is to HAVE FUN!
This shouldn't be stressful and should be something you enjoy building and your guests enjoy using.