---
Disclaimer: This post contains affiliate links. If you make a purchase using one of these links, I make a small commission.
---
Creating a cocktail and mocktail bar for your guests is a delicious way for them to craft the exact drink they want while you enjoy hosting and not bartending.
Whether you're celebrating the holidays, a birthday, or just the weekend, it's so much fun to host friends and family. But spending the night pouring drinks and making sure everyone's sipping something delicious is decidedly less fun.
Setting up a cocktail and mocktail bar provides your guests with (1) something to do, (2) something to talk about, and (3) a way to pour exactly what they want to sip. It's also a share-worthy activity, so if your party has a hashtag, it should have a DIY cocktail and mocktail bar!
There's often a stigma around not drinking alcohol - especially if most guests are imbibing. Letting everyone craft their own drink at a well-built cocktail and mocktail bar allows those not having alcohol to simply leave out the liquor and enjoy a delicious drink.
What You Need To Set Up A Mocktail/Cocktail Bar
Lots and lots of ice. Super serious about the ice. Don't skimp on the ice!
Drink Syrups
Mixer Options
Club soda or sparkling water
Tonic Waters - Plain and/or flavored
Ginger beer or ginger ale
Lemon lime soda
Cranberry juice
Grapefruit Juice (fresh squeezed if possible)
Orange Juice (fresh squeezed)
Lemon Juice (fresh squeezed)
Lime Juice (fresh squeezed)
Fresh Produce
Mint
Rosemary
Citrus wedges (lemon, lime, orange, grapefruit)
Berries (blueberries, sliced strawberries, blackberries)
Liquors
Vodka
Gin
Bourbon or whiskey
Brut champagne or prosecco
White rum or silver tequila
Tools
Variety of glassware
Jiggers an/or shot glasses
Straws and/or stir sticks
Cocktail napkins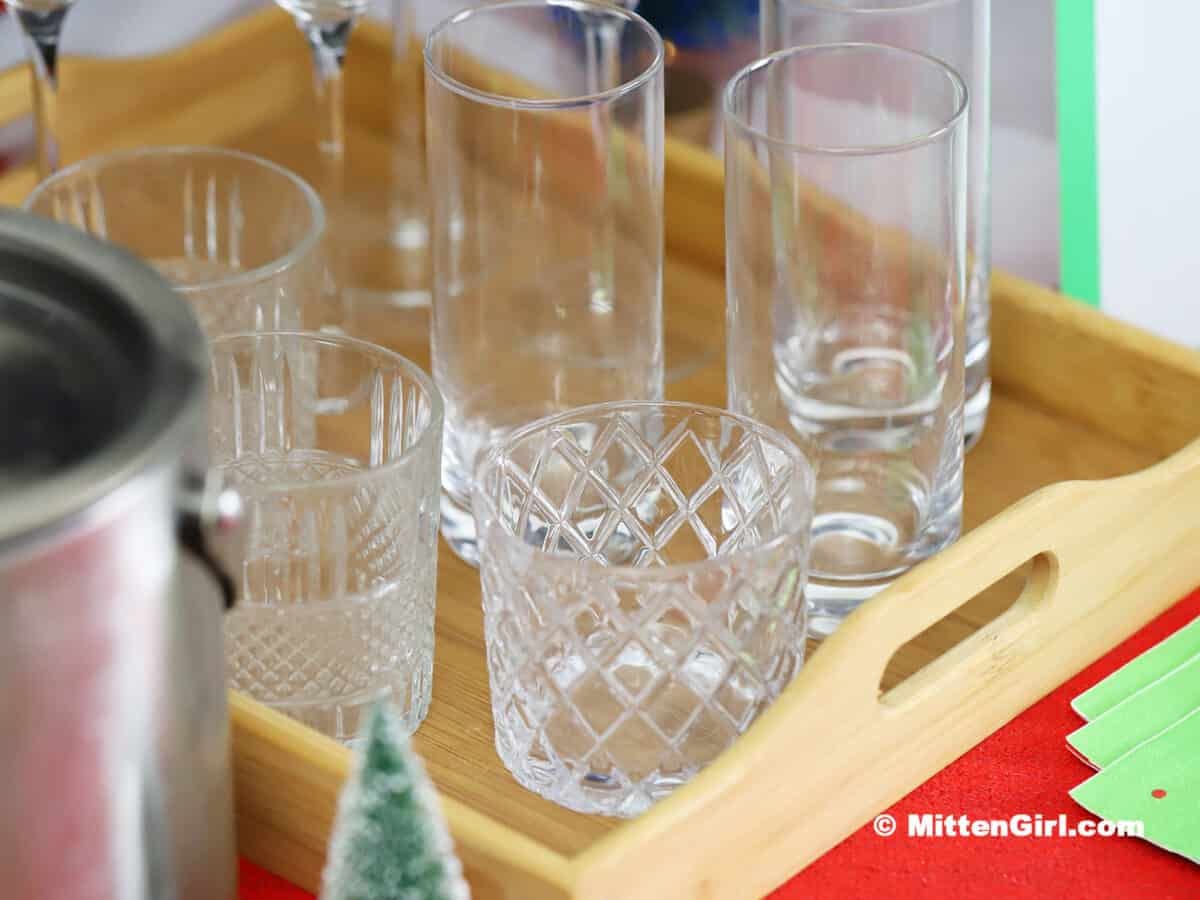 Drink Recipes
Honey syrup + club soda + fresh orange + mint (add gin)
Brown sugar syrup + fresh lemon + ginger ale + mint (add bourbon)
Cranberry juice + ginger ale + fresh lime (add vodka)
Apple cider syrup + fresh orange + club soda (or prosecco)
How to Set Up Your Cocktail and Mocktail Bar
Give yourself as much room as possible, and set up your cocktail and mocktail bar as if it was a buffet of food. Glasses and ice go first, followed by syrups, mixers and liquor. Follow that with fresh herbs and sliced citrus
Don't have a lot of space? Size-down your offerings to fit! You don't need dozens of items if you don't have the space. Stock large bottles of tonic, club soda, ginger beer, and drink syrups so you only need to set out one bottle at a time.
Try These Cocktail and Mocktail Recipes
Tips on Creating your Cocktail and Mocktail Bar
Be careful not to go overboard.
You do not need to offer all of the alcohol or all of the options that you own. Stick to a small number of easily recognizable liquors, a few drink syrups, some mixers, and a small variety of fresh ingredients. Just make sure they all go well together. 
Pay attention to mocktails.
Everyone deserves a delicious drink, so don't leave your guests who don't drink alcohol with the options of water or soda pop. Set up your cocktail and mocktail bar to give ALL of your guests  - whether they're drinking alcohol or not - a variety of drink options. Flavored tonic waters, sparkling water, flavored syrups, fresh herbs, and slices of citrus fruits are all delicious ingredients in any kind of drink. 
Provide drink suggestions. 
Print up a short menu that guides your guests through creating a few different cocktails and mocktails. The easiest way is to have mocktail recipes that can easily have a small amount of alcohol added to them if guests desire. Download my Canva Drink Menu Template
Pay attention to ice
Ice is a critical component to any drink. Set out a large ice bucket with tongs next to the glasses and keep it full all night. You can slowly run out of a lot of ingredients throughout the night (Really! It's OK!), but ice is not one of them!
Set out a variety of glassware.
Providing different styles of glasses - highball glasses, rocks glasses, champagne flutes, wine glasses - lets people choose what they want to sip out of, making drink creation even more creative. And don't worry if you don't own lots of specialty glassware. You probably have some kind of tall drinking glasses and short juice glasses in the cupboard. Those work great in place of highball and rocks glasses. 
Chill your mixers. 
Whatever mixers you choose to set out, make sure they're cold before you serve them. Ice and cold mixers should be the very last items you set out before guests arrive. Set out your glassware, liquors, and (covered) sliced citrus ahead of time, but save your well-chilled mixers and ice until the last minute. 
The entire goal of a DIY Cocktail and mocktail bar is to HAVE FUN! This shouldn't be stressful and should be something you enjoy building and your guests enjoy using.