---
Disclaimer: This post contains affiliate links. If you make a purchase using one of these links, I make a small commission.
---
Tis the season for homemade treats and putting together cookie boxes. But I'd rather build a holiday cocktail box! Or mocktail box! Or both!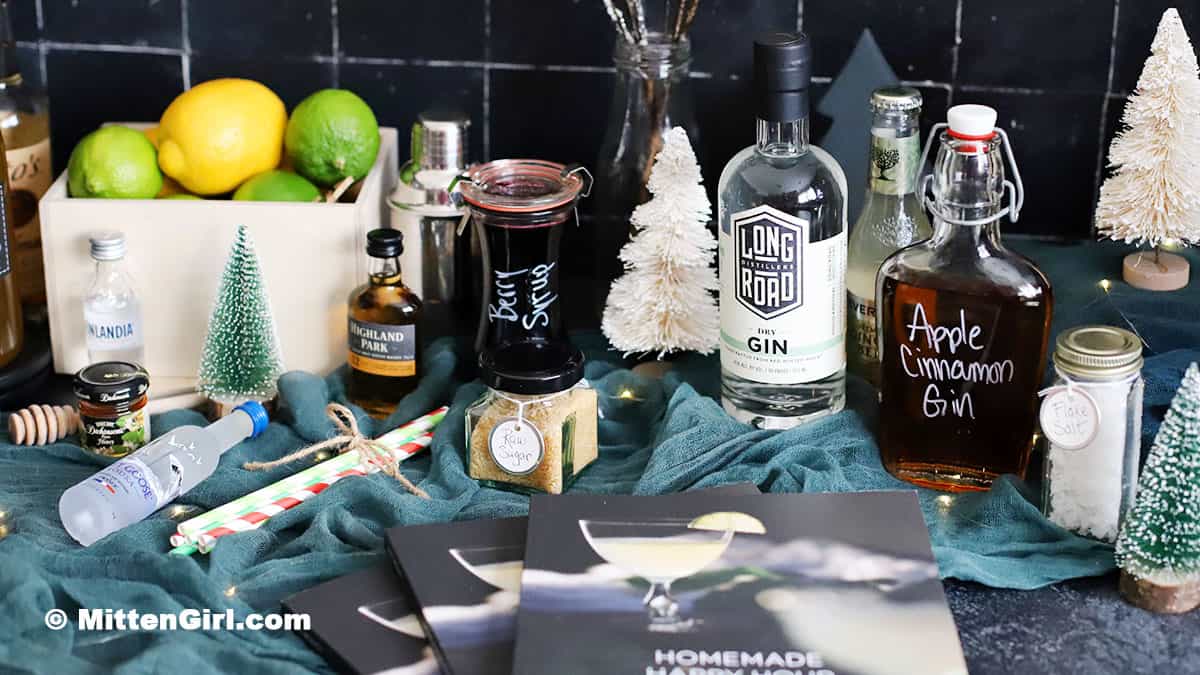 Jump to:
Cocktail and mocktail kits have become increasingly popular and they're so easy to make yourself! And since you choose everything that goes into the box, you can also control the price, making them a great budget-friendly option for holiday gift giving. 
What goes into a Cocktail Kit or Mocktail Kit?
Just like cookie boxes, there's so much fun to be had with ingredients in a cocktail or mocktail kit. You can customize each one to the recipient and give something that they'll really enjoy.
Ideas include: 
Give Your Cocktail Kit a Theme
Including ALL of those items would be a bit much and likey overwhelming for the gift recipient as well. When giving a cocktail or mocktail box, start by thinking about who you're giving the box to, then form a theme.
Is your recipient new to making cocktails? If so, they might enjoy a cocktail recipe book and the bar tools needed to start crafting delicious drinks. You could also include a couple small bottles of liquor and the mixers for one or two drinks.
You can also theme cocktail kits around a specific drink. If you friend loves vodka, choose a popular vodka drink - like a Moscow Mule or a Cosmopolitan - and provide them with the ingredients to make it.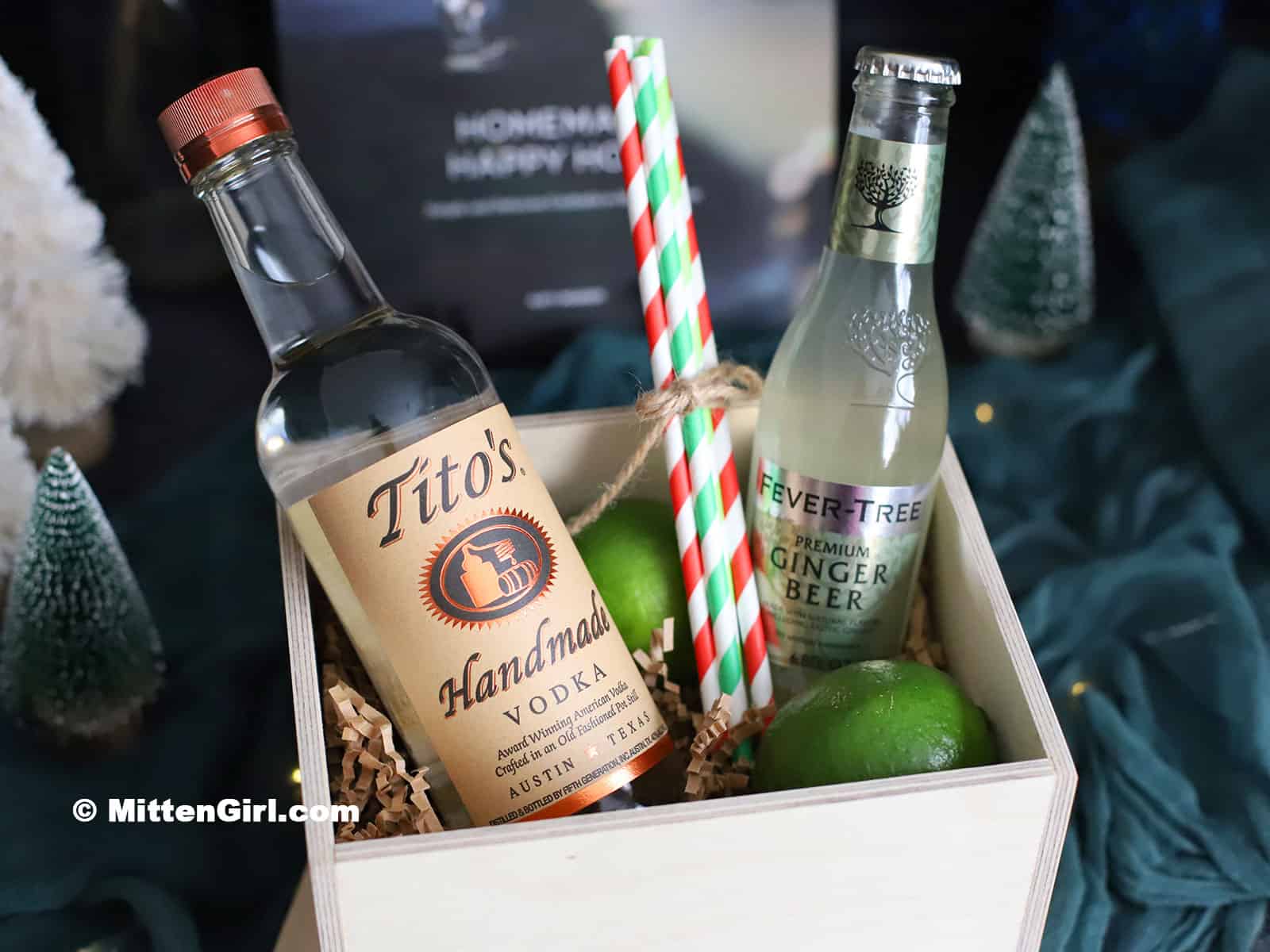 If you're giving a cocktail kit to someone who's likely to have a supply of standard liquors (gin, vodka, bourbon, etc.) already in their house, then taking the time to infuse liquor yourself is a fun way to add something new to their home bar they they're not likely to think of.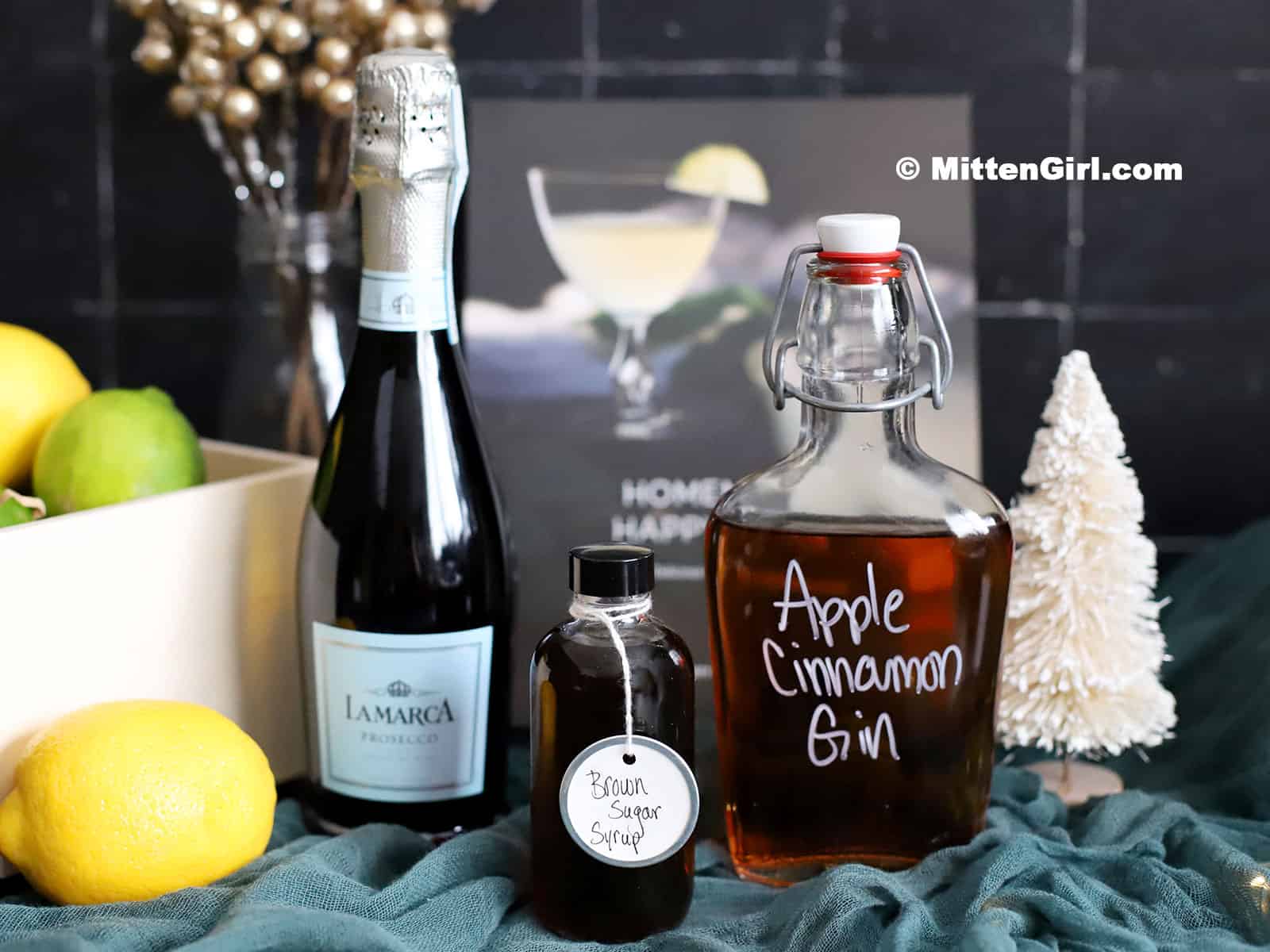 Make These DIY Liquor Infusions
Make it a Mocktail Kit 
If your gift recipient doesn't drink - or you're not sure - a mocktail box with homemade simple syrups, fresh citrus, fun mixers, nice glassware, and some printed mocktail recipes is a fun, alcohol-free variation on a cocktail kit.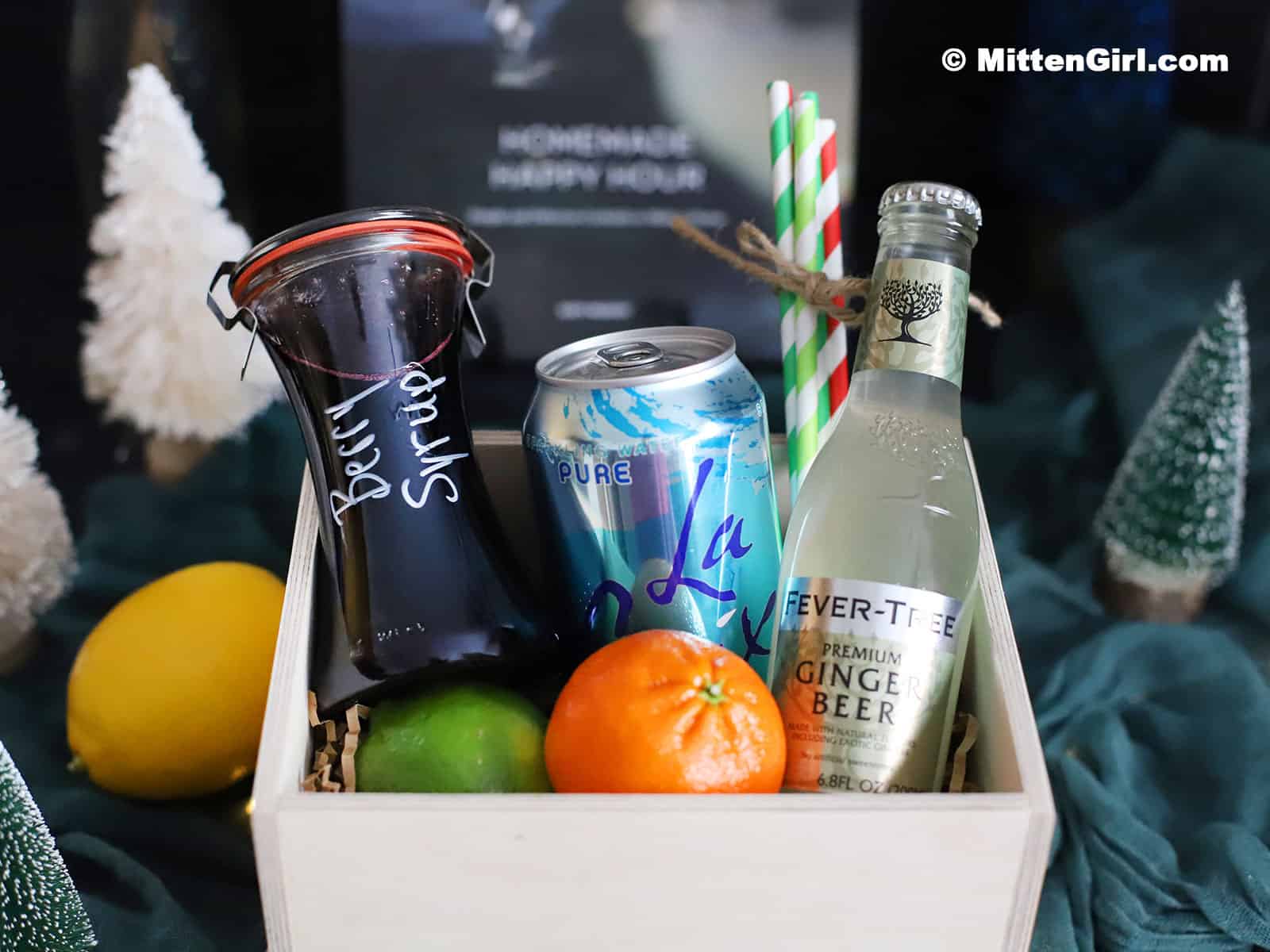 You can also include zero-proof spirits or alcohol free sparkling wine, depending on your recipient's preference. Mocktail kits are a great idea for your sober-curious friends and family, along with those who participate in Dry January since they can still enjoy their gift right away.
Make these Homemade Simple Syrups
How to Package Your Cocktail Kit or Mocktail Kit
This is a gift, so you want the packaging to be nice, but that doesn't have to mean expensive or over the top. Cardboard bakery boxes filled with parchment or tissue paper make a nice base for your cocktail or mocktail kit.
Reuse old bottles and jars in your gifting. I habitually save the glass jar from just about any item we use throughout the year and by the fall, I have a small treasure trove of bottles and jars that are perfect for using in cocktail and mocktail boxes. Just soak the labels off with hot, soapy water and make sure the lids are plain. Jam, honey, and spice jars all work great for this.
Your unique touch is what makes DIY cocktail kits and mocktail kits some of the most fun gifts to give and receive. Have fun putting it together and customize the box for each person! Make some items - make none of the items - it's your call. Just make the boxes personal and your recipients will love them!
Shipping Your Cocktail or Mocktail Kit
Whether you'll be shipping the box or delivering it in person will impact what goes into it.
If you're shipping it, you'll want to skip fresh ingredients, liquids, or alcohol and stick with non-perishable items like bar tools, a cocktail recipe book, cocktail picks, fancy sugars and salts, and fun cocktail napkins.
You'll also want to take the weight of your items when shipping. The heavier the box, the more it costs to ship. A cocktail shaker, bar spoon, and muddler are going to be cheaper to ship than rocks glasses or a mixing glass.
But if you're delivering it in person, then the sky's the limit!
Creating custom gifts is so much fun to do! DIY Cocktail kit and mocktail kits are