Simple syrup and other sugar syrups are delicious, easy to make, and can be used to add sweetness and flavor to any cocktail or mocktail.
Jump to:
Sugar syrups - made with one part water and one part sugar - are easily made at home with pantry ingredients. While you can buy simple syrup at the store, creating your own syrups costs pennies and gives you complete control over the ingredients.
Each type of sweetener - white cane sugar, brown sugar, honey - will create different types of simple syrup, each with its own unique taste. Maple syrup and agave nectar don't usually need to be thinned with water before using in drinks, but you could if you wanted to.
While you can certainly make simple syrups on the stove top, it's super easy to make the sugar syrups below simply by heating water in a microwave and stirring in sweetener.
How to Make Simple Syrup
Made with white sugar, basic simple syrup adds sweetness but not flavor, and pairs with any spirit. It's also delicious for sweetening cold drinks, like iced tea and making homemade lemonade.
Directions
Stir 1 cup white sugar into 1 cup hot water until sugar dissolves.
Cool completely before using.
Store in an airtight container in the refrigerator for up to 3 weeks.
Use it in These Cocktails
How to Make Brown Sugar Syrup
Brown sugar syrup goes well with the smokiness in bourbon. It also works well with apple flavors spirits.
Directions
Stir 1 cup of brown sugar into 1 cup of hot water until brown sugar is dissolved.
Cool completely before using.
Store in an airtight container in the refrigerator for up to 3 weeks.
Use it in These Cocktails
How to Make Honey Syrup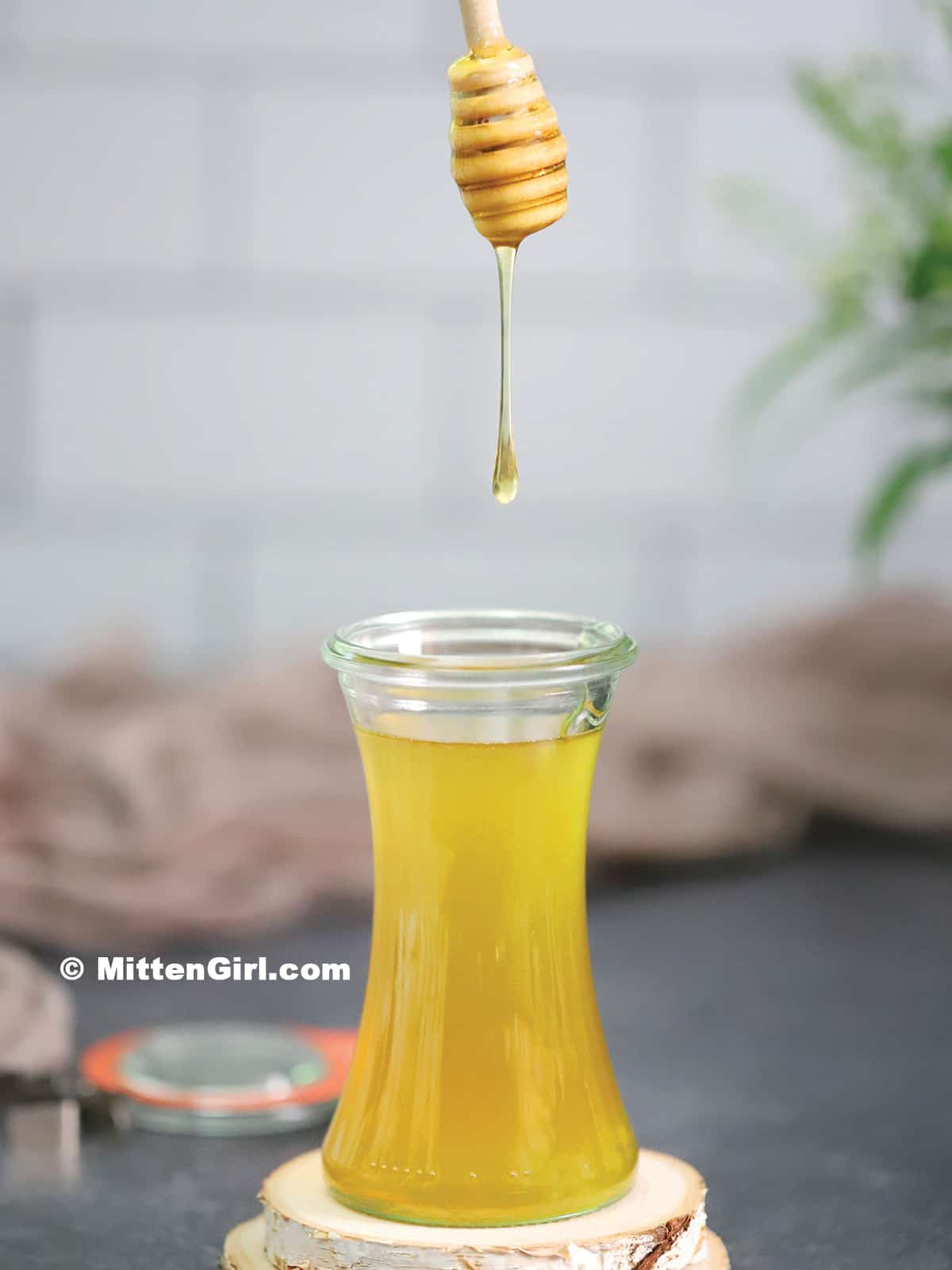 Honey syrup pairs nicely with the botanical notes in gins, as well as citrus and herbs.
Directions
Stir 1 cup of honey into 1 cup of hot water until honey is dissolved.
Cool completely before using.
Store in an airtight container in the refrigerator for up to 3 weeks.
Use it in These Cocktails
Make Your Syrups in Batches
If I'm running low on - or am out of - any of these syrups, I'll make them in one big batch to get my refrigerator restocked fast.
Measure 1 cup of each sugar into its own mason jar, heat 3 cups of water, then add 1 cup of hot water into each jar and stir until dissolved before covering and putting them in the refrigerator.
The entire process takes less than 10 minutes and sets me up with 3 delicious syrups for the next few weeks.
Give Homemade Syrup as a Gift
Homemade syrups are one of my favorite things to include in a cocktail or mocktail gift basket. Customize them to match your recipient's favorite flavors! Learn more about this on my DIY Cocktail and Mocktail Kits page.
Frequently Asked Questions
How long does simple syrup last in the refrigerator?
When kept refrigerated, the shelf life of simple syrup is 3 weeks. Toss it out if it starts to look cloudy or you notice any changes in color. Unlike the store-bought ones, homemade simple syrups don't have a long shelf life when stored at room temperature, so be sure to keep them refrigerated.
How should I store my syrup?
Any airtight, glass container will work. Make sure you have a sterile container to ensure your syrup lasts as long as possible. Glass containers - like mason jars - with tight fitting lids are the best choice. Plastic containers can retain the smell of whatever was in them before, and that can infuse into the syrup while it's sitting in the refrigerator. So skip the plastic.
Are simple syrup and bar syrup the same thing?
Yes. Both simple syrup and bar syrup are a 1:1 ratio of cane sugar to water.
Does simple syrup need to be boiled?
No, but the hotter the water used, the quicker the sugar will dissolve into it and the quicker your syrup will be ready to refrigerate and use.
How do you know when simple syrup is done?
Your simple syrup is ready when all of the sugar crystals have dissolved into the water. While you stir, occasionally lift your spoon out of the mixture and look for sugar crystals. When the syrup looks clear and no crystals are present, it's ready to chill and use.
What is rich simple syrup?
Rich simple syrup refers to a heavy syrup made with a 2:1 ratio of sugar to water instead of the 1:1 ratio in a standard simple syrup recipe. It's a very sweet syrup and shouldn't be used as a direct swap for simple syrup in a recipe.
How do I make my cocktail syrups last longer?
You can create a longer shelf life for your homemade simple syrup by adding a tablespoon of vodka to the finished syrup. Since I use my syrups in alcohol-free drinks as well as cocktails, I skip this option and just make sure I pay attention to my syrup's expiration date.
More Delicious Simple Syrup Recipes