This post contains affiliate links (paid links).
Homemade ginger syrup is great for making flavorful cocktails and non-alcoholic drinks. It pairs well with bourbon, gin, and vodka. Ginger simple syrup is also delicious alongside apples, peaches, or blueberries.
Jump to:
The popularity of Moscow Mule cocktails has made ginger flavor a popular choice in cocktail recipes. Ginger simple syrup is a great way to experiment with adding a little ginger to your drinks. This three ingredient simple syrup recipe comes together quickly and adds a delicious, slightly spicy flavor in cocktails as well as mocktails.
A lot of ginger syrup recipes call for grinding up the whole ginger root in a food processor, but while good for a sore throat, I find that style creates too strong of a ginger syrup for mixed drinks. We're creating a syrup with the subtle flavor of a ginger liqueur. Something that will impart a little ginger flavor without taking over the drink.
For this recipe, fresh ginger slices are combined with sugar and water to create a versatile syrup. Try it as a sweetener for iced tea or apple cider, or mixed with some club soda or soda water for your own, homemade ginger ale.
Ingredients
Fresh ginger root
Cane sugar
Water
How to Make Ginger Simple Syrup
Peel your ginger root. Cut it into thin slices. Set aside.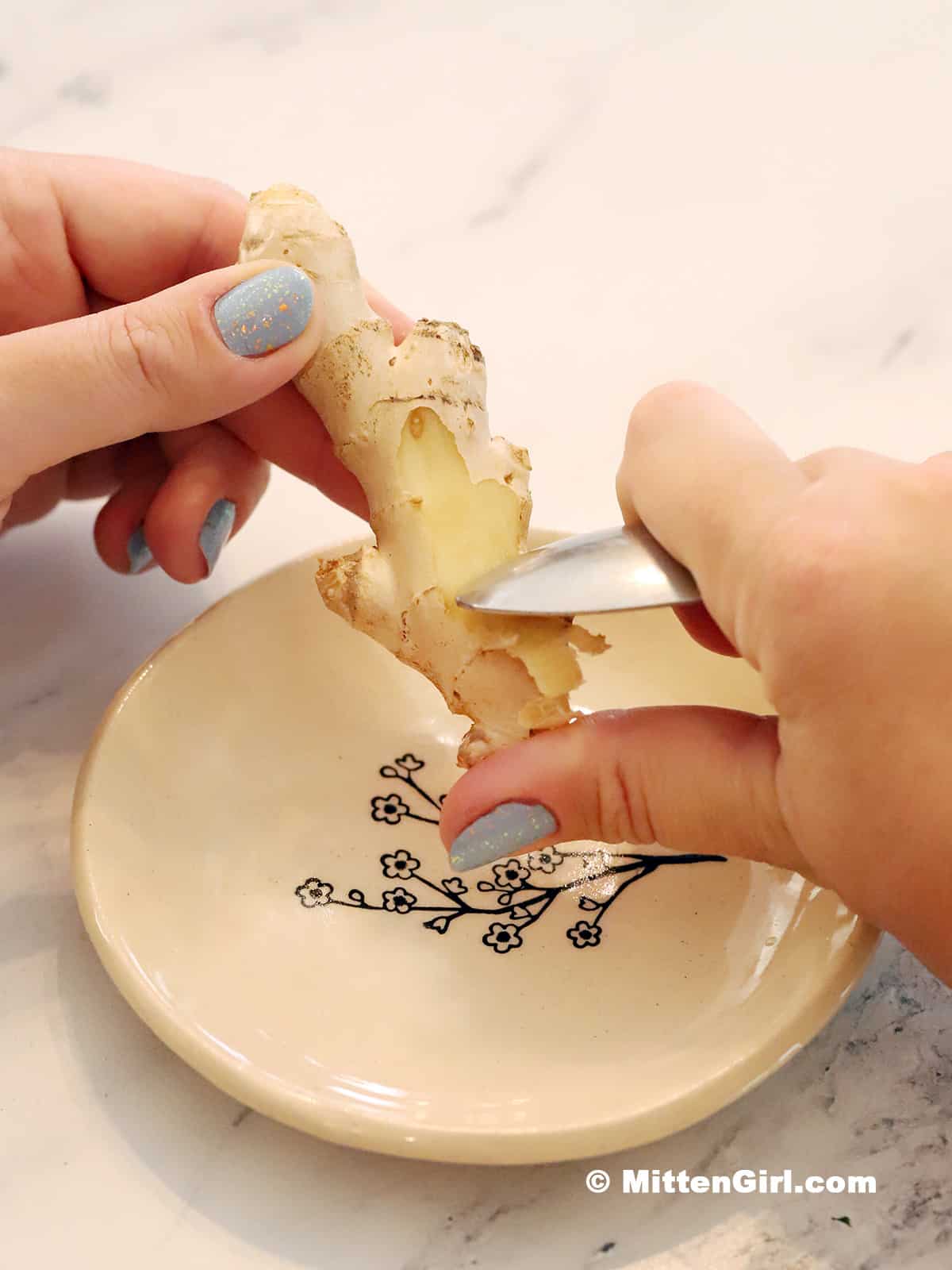 Bring water to a boil in a small saucepan. Add sugar and stir until dissolved.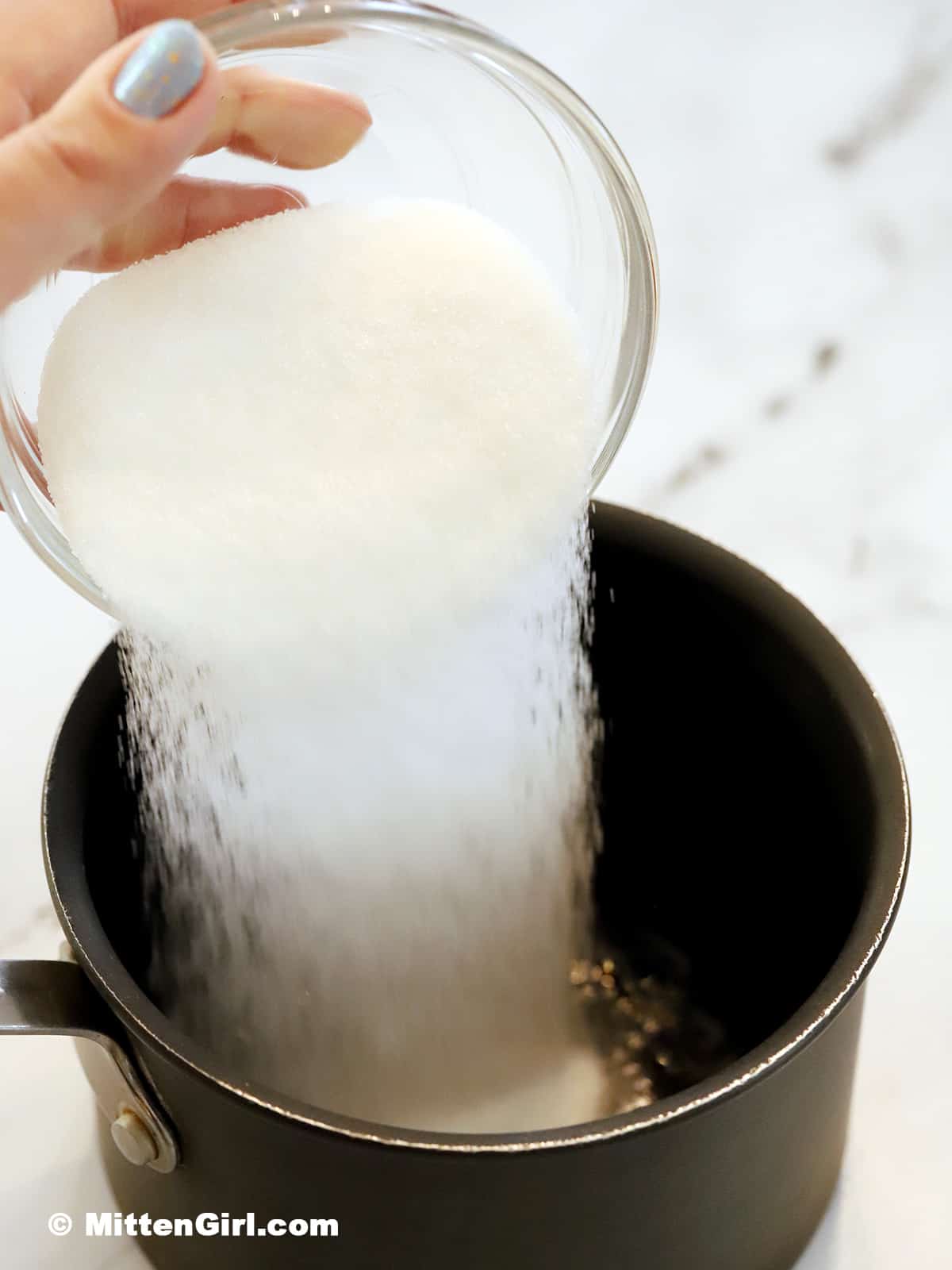 Add ginger slices. Stir, then set syrup aside for 2 hours to allow the ginger time to infuse as the syrup cools to room temperature.
Remove the ginger pieces using a slotted spoon or fork.
Chill syrup completely before using.
Store in an airtight container in the refrigerator for up to 2 weeks.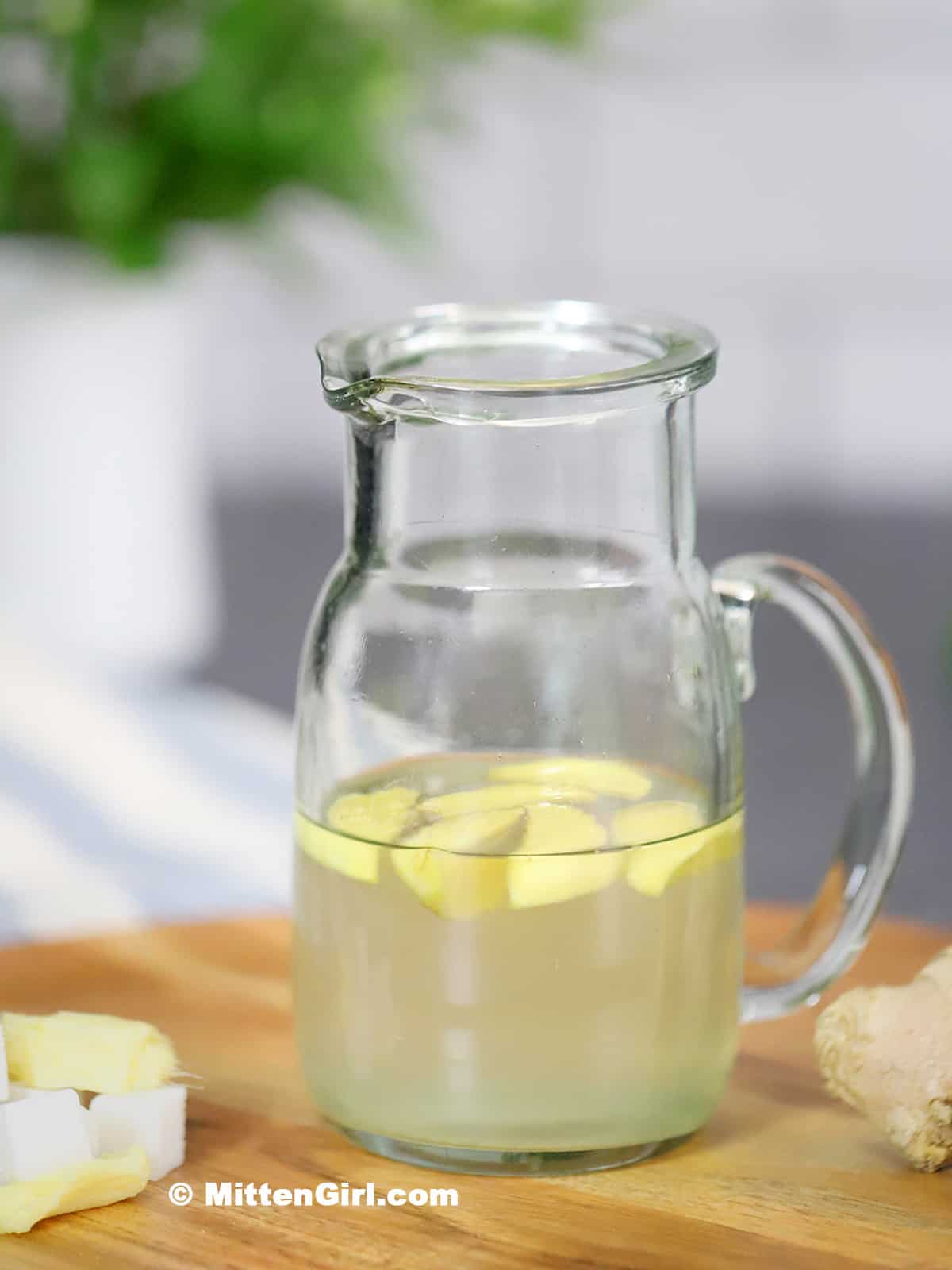 Use Your Ginger Syrup in These Drinks
Ginger simple syrup is delicious in so many cocktails and mocktails. Check out these recipes below and discover your new favorite drink!
Tips
Make your syrup ahead of your happy hour. Ginger simple syrup should be cold before using it in your drinks. Be sure to make your syrup a few hours ahead of when you want to sip your drinks so there's enough time to chill it in the refrigerator.
Strain your syrup. There may be small pieces of ginger root in your syrup after you've removed the large pieces. These are fine to leave in the ginger syrup, but if it bothers you simply strain them out by pouring the finished syrup through a fine mesh sieve before using.
Use a spoon to peel your ginger root. The easiest way to peel fresh ginger is to scrape a spoon gently across the skin of the ginger root. The peel will come away easily without taking off much of the root. It's also easy to get into the ginger root's little nooks and crannies with a spoon.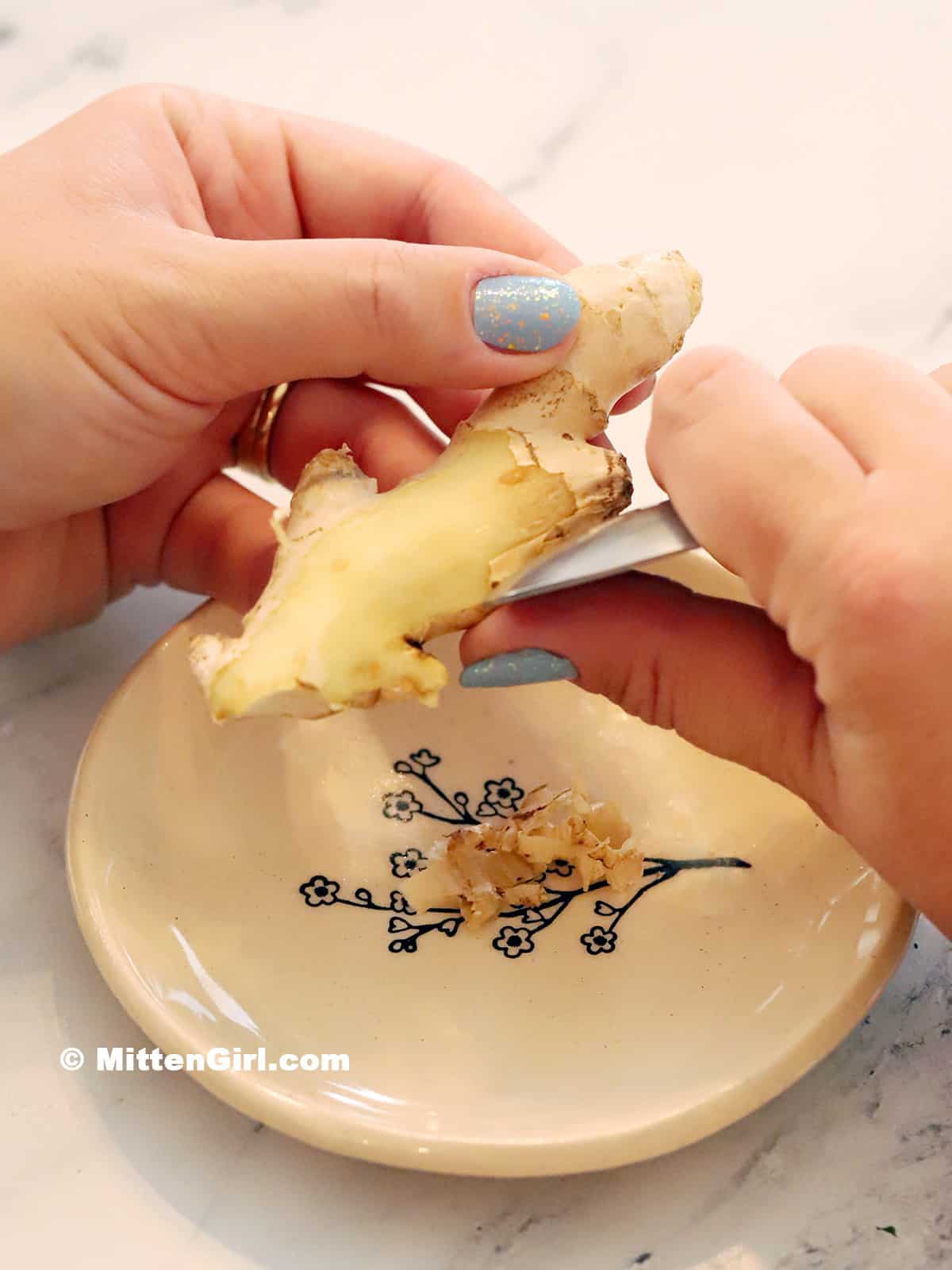 Frequently Asked Questions
Where do I find ginger root? 
Ginger root can be found in the produce section of your local grocery store. In mine, it's stored by the root vegetables (parsnips, turnips, carrots, etc.). 
Do I have to peel the ginger? 
Yes. It only takes a few minutes to peel your ginger root with a spoon. Ginger peel has a bitter taste to it, so adding the ginger root to the hot syrup without peeling it will impart that bitterness into your syrup. 
What do I do with leftover ginger? 
Chances are you weren't able to buy a small piece of ginger and now have lots of fresh ginger on hand. I peel and slice my leftover ginger, then freeze it in a zip-top bag and use the slices in smoothies or add some to hot water with honey to make ginger tea. You can also use up some of that fresh ginger for dinner with my Sweet and Citrus Garlic Sauce. 
Can I use powdered ginger?
No. Using powdered ginger from the spice section of your grocery store will not give a strong enough ginger flavor and is extremely difficult to strain out of your syrup. You need to use fresh ginger root in this recipe. 
What can I use besides sugar? 
Agave nectar can be used in place of the white sugar if you'd prefer. Using a sweetener like brown sugar or maple syrup is delicious, but will change the flavor of your ginger syrup. 
How long does ginger syrup last? 
When kept refrigerated, ginger simple syrup will keep for 2 weeks. 
How can I tell when my simple syrup has gone bad? 
Ginger syrup is naturally cloudy, so it's hard to tell if it's gone bad by just looking at it. Use a dry erase marker to note the date you made the syrup on the bottle so you can easily tell when it's time to pour it out. As with any food, if it changes color or smell, toss it immediately. 
Don't Miss These Flavorful Simple Syrups
More Delicious Recipes You'll Love
Print the Recipe
Print
Ginger Simple Syrup for Drinks
Homemade ginger syrup is great for making flavorful cocktails and non-alcoholic drinks. It pairs well with bourbon, gin, and vodka. Ginger simple syrup is also delicious with apples, peaches, or blueberries.
Author: Katy McAvoy
Prep Time:

5 min

Cook Time:

5 min

Total Time:

10 min

Yield:

6 oz

1

x
Category:

Simple Syrup

Method:

Stove Top

Cuisine:

American
½

cup

of sugar

½

cup

of water

2

inch piece of fresh ginger
Instructions
Peel and slice the ginger.
Combine sugar and hot water, stirring until sugar is dissolved.
Add the ginger slices to the hot water and sugar mixture.
Allow ginger to steep in the syrup until the mixture cools completely, approximately 2 hours.
Cool syrup completely before using. Store in an airtight container in the refrigerator for up to 2 weeks.
Equipment
Notes
The longer you leave the ginger in the syrup, the stronger the flavor. If you want a stronger ginger flavor, make the syrup 24 hours in advance to allow the ginger more time to infuse the syrup. Do not leave the ginger in the syrup for more than 48 hours. Doing so will shorten the syrup's shelf life.
Nutrition
Serving Size:

1 oz

Calories:

65

Sugar:

16.6 g

Sodium:

1.1 mg

Fat:

0 g

Carbohydrates:

16.8 g

Fiber:

0 g

Protein:

0 g

Cholesterol:

0 mg
Keywords: ginger simple syrup, ginger syrup, syrup for cocktails, syrup for mocktails, non alcoholic, mocktail